Could it be Adult ADHD?: A Clinician's Guide to Recognition, Assessment, and Treatment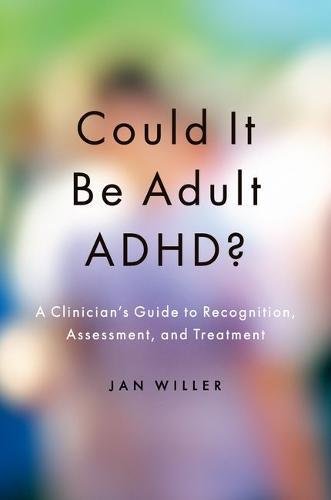 One out of every 10 adult psychotherapy clients likely has ADHD. Due to high comorbidities with depression, anxiety, substance abuse, and other mental disorders, along with considerable behavioral dysfunction, adult ADHD is even more common in clinical populations than the general public. When an ADHD diagnosis is missed, psychotherapy is often frustrating and less effective. Could it be Adult ADHD? is for mental health professionals who wish to learn how to recognize, assess, and treat adult ADHD.
Written in a style maximally accessible to the practicing mental health professional, this book educates early-career psychotherapists and experienced professionals alike on the disorder and its treatment. Author Jan Willer provides a full description of adult ADHD symptoms, based on the most current research, including executive functioning problems, emotional dysregulation, atypical reward sensitivity, and problems with time perception. Recognizing patterns of dysfunction is essential to identify ADHD, so two detailed composite cases are presented, along with supplemental case material. Strengths that may be associated with ADHD are described. Willer offers guidance on providing psychoeducation about cognitive differences in ADHD, which is essential for client self-acceptance and adaptive functioning. Common psychotherapy problems with ADHD clients are addressed, including chronic lateness to sessions, missed appointments, motivation problems, difficulties with homework, and tangentiality. Willer also discusses medications for ADHD, including their benefits, contraindications, and side effects, and reviews the effectiveness of non-traditional treatments.
You may also like