ADHD and Asperger Syndrome in Smart Kids and Adults: Twelve Stories of Struggle, Support, and Treatment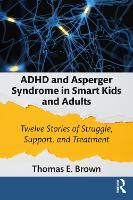 Book Details
Publisher : Routledge
Published : August 2021
Cover : Paperback
Pages : 224
Category :
Autism and Aspergers
Catalogue No : 95776
ISBN 13 : 9780367694906
ISBN 10 : 9780367694
Also by Thomas E. Brown
ADHD and Asperger Syndrome in Smart Kids and Adults offers detailed examples of individuals who have above average cognitive intelligence, but struggle with executive function impairments of ADHD and significant social-emotional impairments of Asperger syndrome.
The book centers around twelve case studies of bright children, teens, and adults treated for both ADHD and Asperger syndrome. Each chapter describes diverse examples of their strengths and their difficulties and explains how these individuals can be helped with appropriate treatment to overcome their ADHD impairments and to improve their ability to understand and interact more effectively with others. Case examples are followed by updated, science-based descriptions of these disorders.
Providing science-based information about ADHD and Asperger syndrome in clearly understandable, accessible language, this text is ideal for clinicians, educators, social workers, medical and mental health service providers, and parents of those struggling with such impairments. It also argues for restoring the diagnosis of Asperger Syndrome to diagnostic manuals of the American Psychiatric Association and World Health Organization.
Reviews and Endorsements
"This book does a marvelous job of exploring the complex connections between Asperger's and ADHD as well as implications for treatment. It has much to offer to mental health practitioners, parents and teachers" - Fred R. Volkmar, MD, Irving B. Harris Professor of Psychiatry, Child Study Center Yale University School of Medicine; editor, Encyclopedia of Autism; editor-in-chief, Journal of Autism and Developmental Disorders.

"I read your book and really like all the case histories of adults, young adults, and children. It will provide valuable insights to parents and teachers." - Temple Grandin, PhD, professor of animal science, Colorado State University; author, The Autistic Brain and Thinking in Pictures-My Life with Autism.

"This well-written and informative book draws upon research and Dr. Brown's extensive clinical experience to fill a great need for clinicians, patients, and families. It presents clinical cases of highly intelligent people struggling with both ADHD and Asperger Syndrome (high functioning autism spectrum disorder). It wisely informs us of what they can do to improve their quality of life. I congratulate Dr. Brown for this unique book that serves a neglected population of people." - Russell A. Barkley, PhD, clinical professor of psychiatry, Medical University of South Carolina.

"Asperger's syndrome and ADHD often combine to create a complex profile of abilities. I recommend this informative and practical book for professionals and for parents. - Tony Attwood, PhD, clinical psychologist and associate professor, Griffith University, Queensland, Australia; author of The Complete Guide to Asperger's Syndrome.


About the Author(s)
Thomas E. Brown, PhD, earned his doctorate in clinical psychology at Yale University and served on Yale faculty for 20 years. He has published five books on ADHD and now directs the Brown Clinic for Attention & Related Disorders in Manhattan Beach, CA.
You may also like