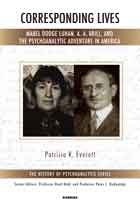 Book Details
Publisher : Routledge
Published : September 2016
Cover : Paperback
Pages : 360
Category :
Psychoanalysis
Catalogue No : 37334
ISBN 13 : 9781782203407
ISBN 10 : 1782203400
Also by Patricia R. Everett
An influential New York salon host and perpetual seeker of meaning, Mabel Dodge entered psychoanalysis in 1916 with A.A. Brill, the first American psychoanalyst, continuing until she moved to New Mexico in December 1917. In Taos, she met Antonio Luhan, the Pueblo Indian who became her fourth husband in 1923, a radical union that forever altered her turbulent life.
From the beginning of her analysis until 1944, Mabel wrote to Brill and he replied, yielding 122 letters. No other such extensive, elaborate written conversations exist between patient and analyst. This book presents a narrative organized around these letters, featuring the turmoil in Mabel's relationships with others, most notably D. H. Lawrence, as well as her extraordinarily candid memoirs, both published and unpublished, inspired by Brill's fierce insistence upon constructive outlets. In her correspondence, as in life, Mabel was despairing, insightful, insecure, and talented, reporting to Brill her emotional states, seeking his advice. With warmth and frankness, he offered opinions, affection, and interpretations.
Corresponding Lives is the story of one woman's sustained connection to her psychoanalyst through letters and a revelation of the vital role an analyst can play years after formal treatment. This correspondence is a rare archival treasure in the history of psychoanalysis.
Reviews and Endorsements
'A fascinating collection of letters, superbly edited and brilliantly explicated by Everett. To be interested in the history of psychoanalysis is to be interested in this book.'
— Professor Mark Edmundson, University of Virginia

'If Corresponding Lives only provided us with the letters between a pioneering American psychoanalyst, A. A. Brill, and his patient, Mabel Dodge Luhan, a giant of American cultural history who introduced psychoanalysis to New York intellectuals, it would be well worth reading. But it delivers so much more. Through sensitive editing of their correspondence and a beautifully written narrative, Patricia R. Everett brings us inside psychoanalysis in the early twentieth century and gives us a sense of knowing this dazzling and conflicted woman.'
— James William Anderson, PhD, Professor of Clinical Psychiatry and Behavioral Sciences, Northwestern University

'The extended correspondence between a psychoanalyst and his sometime patient offers unparalleled historical glimpses of the two most important figures in introducing and spreading Freud's ideas among American physicians and avant-garde intellectuals, with first-hand, multilevel samples showing how both psychoanalytic practice and intellectual fashion changed between 1915 and 1944. Best of all for the reader, this intimate correspondence, along with other unpublished material, is placed richly in biographical and historical context by Everett, a sensitive and wellinformed clinician scholar. In the process, a whole narrative raises fundamental questions about human relationships, boundaries, and creativity.'
— John Burnham, editor of After Freud Left: A Century of Psychoanalysis in America
About the Author(s)
Patricia R. Everett is a psychologist in private practice in Amherst, Massachusetts, and the author of A History Of Having A Great Many Times Not Continued To Be Friends: The Correspondence Between Mabel Dodge and Gertrude Stein, 1911-1934. Since 1983, she has researched the Mabel Dodge Luhan archives at the Beinecke Rare Book and Manuscript Library, Yale University. Her current writing projects include an annotated collection of the dreams of Mabel Dodge and the unpublished correspondence between Brill and Freud.
You may also like