Better Late than Never: The Reparative Therapeutic Relationship in Regression to Dependence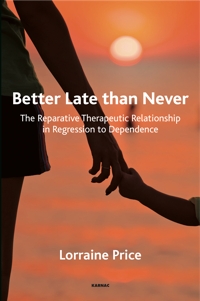 Our Customers Average Rating
Read all reviews (2)





This book is concerned with an enigmatic set of experiences which theorists in the Object Relations tradition have characterised as regression to dependence, a return to a primitive, pre-verbal relational process presenting in some clients in psychotherapy. It highlights the effects of early infantile trauma resulting in the experience of failed dependency. Clients who present with chronic anxiety, relational failures and an inner emptiness are considered, and the opportunity for a therapeutic repair is explored with recommendations for the therapeutic stance being made.
Written from an Integrative Psychotherapy perspective, it addresses the current absence of writing in the field from a relational / developmental viewpoint on concepts more usually addressed in psychoanalytic writing. The insights of Winnicott are particularly highlighted in relation to failed dependency and maternal failure. This work aims to offer a way forward to successfully work with this client group.
Reviews and Endorsements
'Lorraine Price has written an important book for all psychotherapists. She describes the need for some clients to regress to an early developmental age while relying on a secure, dependable, healing relationship with the psychotherapist. Price's review of the literature includes such topics as relational loss, terror, annihilation, psychological withdrawal, cumulative trauma, relational needs, shame, and identity, as well as the effects of acute anxiety and depression. This is a must-read for any psychotherapist interested in doing in-depth psychotherapy.'
—Dr Richard G. Erskine, Training Director, Institute for Integrative Psychotherapy

'This book is about regression to dependence, but it is also about love, commitment, courage and standing alongside clients, even when they are at their most vulnerable. It is about therapy at its very best. The author skilfully weaves evocative narrative into theory, helping the reader to understand how reparative relationships may work in practice. It is a book that I would recommend to all psychotherapeutic practitioners, trainers and students and will use it to inform my own practice.'
—Susan Dale, MBACP Accred, independent psychotherapeutic practitioner and writer
About the Author(s)
Lorraine Price worked in the civil service and local government before training as an Integrative Psychotherapist and supervisor. She is currently Programme Leader of the MSc in Integrative Psychotherapy programme at the Sherwood Psychotherapy Training Institute, Nottingham. Lorraine has a private practice near her home town of Lichfield, Staffordshire and a supervision practice in Ireland. She is accredited both with the British Association for Counselling and Psychotherapy (BACP), the United Kingdom Council for Psychotherapy (UKCP), and the Irish Association of Humanistic and Integrative Psychotherapy (IAHIP). Lorraine also successfully completed her Research Doctorate in Psychology with De Montfort University in 2014 where she pursued her ongoing interest in the effects and treatment of early infantile trauma upon clients in psychotherapy, therapeutic regression, and the reparative capacity of the therapeutic relationship.
Customer Reviews
Our customers have given this title an average rating of 5 out of 5 from 2 review(s), add your own review for this title.
Julie Dearden on 17/12/2018 07:30:17





(5 out of 5)
Lorraine Price has succeeded in writing an accessible and engaging book on the delicate therapy required for infantile trauma.
This book would be useful for clients trainees and experienced therapists. Lorraine carefully details a means of therapy which goes way beyond a talking therapy to encompass areas such as touch, intersubjectity, and shame.
I found this book to be both personally and professionally illuminating
V. Nelson on 31/08/2016 19:02:40





(5 out of 5)
I have been in therapy on and off since my early thirties (I am now in my late fifties). I came to my current (integrative) therapist struggling with a deep depression which I feel had been "waiting within me" for some time. This book has helped me to understand the therapy process that I have experienced over the last 8 years and which helped me to recover my life. I know from my therapy how deep my damage goes (and how far back it started), and the book helps me to add to my narrative. Though outwardly successful and popular I always felt an inner hollowness. I can now understand what had happened to me and to fully engage with the therapeutic process to aid my ongoing recovery. I feel that this book is very useful for many people but can personally recommend it from my own perspective - as a therapy client who has long seen the benefits of recovering her true self through engaging in a long term therapeutic relationship.
You may also like