Better Late than Never: The Reparative Therapeutic Relationship in Regression to Dependence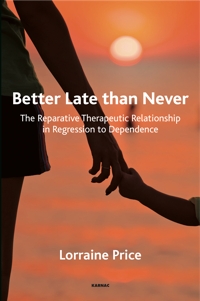 Customer Reviews
Our customers have given this title an average rating of 5 out of 5 from 2 review(s), add your own review for this title.
Julie Dearden on 17/12/2018 07:30:17





(5 out of 5)
Lorraine Price has succeeded in writing an accessible and engaging book on the delicate therapy required for infantile trauma.
This book would be useful for clients trainees and experienced therapists. Lorraine carefully details a means of therapy which goes way beyond a talking therapy to encompass areas such as touch, intersubjectity, and shame.
I found this book to be both personally and professionally illuminating
V. Nelson on 31/08/2016 19:02:40





(5 out of 5)
I have been in therapy on and off since my early thirties (I am now in my late fifties). I came to my current (integrative) therapist struggling with a deep depression which I feel had been "waiting within me" for some time. This book has helped me to understand the therapy process that I have experienced over the last 8 years and which helped me to recover my life. I know from my therapy how deep my damage goes (and how far back it started), and the book helps me to add to my narrative. Though outwardly successful and popular I always felt an inner hollowness. I can now understand what had happened to me and to fully engage with the therapeutic process to aid my ongoing recovery. I feel that this book is very useful for many people but can personally recommend it from my own perspective - as a therapy client who has long seen the benefits of recovering her true self through engaging in a long term therapeutic relationship.