Containment in the Community: Supportive Frameworks for Thinking about Antisocial Behaviour and Mental Health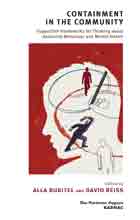 Also by David Reiss
This book is aimed at all practitioners working in healthcare and criminal justice community settings with individuals displaying antisocial, offending, and challenging behaviours, at times complicated by severe mental disorders.
Despite risk assessment policies and procedures, we all know how disorientated we can feel when trying to make sense of what is going on in the course of our work. Contributors to this book describe familiar anxiety-provoking situations. Most importantly, they illustrate ideas and perspectives that can help you to rediscover meaning and purpose in your roles and tasks, with the ultimate objective of enabling service-users to manage more effectively the emotional turbulence that invariably lies behind their challenging behaviours.
Reviews and Endorsements
Contributors:
John Adlam, Jina Barrett, Ruth Berkowitz, William Crouch, Oliver Dale, Rob Hale, Gabriel Kirtchuk, David Morgan, David Reiss, Rosemary Richards, Alla Rubitel, Christopher Scanlon, Mike Solomon, Philip Stokoe, Richard Taylor, Jessica Yakeley

With a foreword by R.D. Hinshelwood

This volume is designed to support the day-to-day practice of all staff working in the community that need to support individuals who manifest antisocial behaviour often complicated by chronic mental disorder, or people whose presentation causes similar stressful dilemmas. The book draws on experience gained across a wide spectrum of settings: within the NHS, the National Offender Management Services (NOMS) and the wider criminal justice services, as well as various services for children, young people and their families.

The subject matter of this text covers antisocial, offending and challenging behaviours: in particular behaviours that create unusual levels of anxiety in practitioners or the public. Valuable insights are offered, with examples, into ways of thinking about these problems and practical guidance is offered on the way professional teams and the individuals within them can develop and maintain effective work. Whilst not explicitly focussed on those identified as having a personality disorder, the material concerns individuals with psychological difficulties that are pervasive, enduring and which have a particularly intrusive impact on caring staff members working with them.

This book is a valuable contribution to service improvement and provides essential support for our ability to provide effective intervention and a more capable workforce to assist those with complex and often challenging needs.

'It is an exceptionally difficult task for practitioners working in this complex and demanding field to find the time and space to think reflectively about the challenges and anxieties they face. Containment in the Community achieves the rare and enviable goal of facilitating a wide-ranging therapeutic discourse, and at the same time never loses its focus on the application of good clinical practice for real people in real settings. This book should be read by anyone with an active interest in forensic mental health services.'
- Michael Howlett, Formerly Director, The Zito Trust

'The criminal justice system is swamped with people, of all ages, suffering from some form of mental health problem, for whom too little is done. Fundamental to any action are trained mental health practitioners. This collection of articles by a variety of experts is both welcome and timely because it presents stark realities to those responsible for determining both what must and what cannot at present be done.'
- Lord David Ramsbotham, Former Chief Inspector of Prisons
About the Editor(s)
Alla Rubitel MRCPsych, is a consultant psychiatrist in forensic psychotherapy at the Portman Clinic and consultant psychiatrist in psychotherapy at the Gordon Hospital, Central and North West London NHS Foundation Trust. Her clinical research interests include psychoanalytic approaches to understanding and treating patients suffering from perversions, violence and delinquency in the context of cumulative trauma and distrurbed attachment, as well as supervision and the teaching medical and non medical staff. She is also a psychoanalyst in private practice.

David Reiss, MA, MBBChir, MPhil, PgD, FRCPsych, FAcadMEd, is a Consultant Forensic Psychiatrist, West London Mental Health NHS Trust and Honorary Clinical Senior Lecturer, Imperial College London. His research interests are in the interface between clinical forensic psychiatry and public policy, including work on personality disorder, recidivism, homicide inquiries and educational issues. His clinical and educational work focuses on enabling the multidisciplinary team to gain an enhanced understanding of patients, thereby improving care and reducing risk.
You may also like