Compassion-Based Approaches in Loss and Grief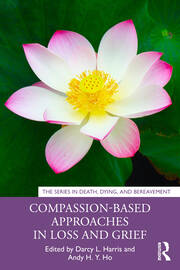 Book Details
Publisher : Routledge
Published : December 2022
Cover : Paperback
Pages : 242
Category :
Grief and Bereavement
Catalogue No : 96932
ISBN 13 : 9781032068343
ISBN 10 : 9781032068
Also by Darcy L. Harris
Compassion-Based Approaches in Loss and Grief introduces clinicians to a wide array of strategies and frameworks for engaging clients throughout the loss experience, particularly when those experiences have a protracted course.
In the book, clinicians and researchers from around the world and from a variety of fields explore ways to cultivate compassion and how to implement compassion-based clinical practices specifically designed to address loss, grief, and bereavement.
Students, scholars, and mental health and healthcare professionals will come away from this important book with a deepened understanding of compassion-based approaches and strategies for enhancing distress tolerance, maintaining focus, and identifying the clinical interventions best suited to clients' needs.
Reviews and Endorsements
"Death, dying and grief are inescapable experiences, yet we can often fall into the trap of avoiding and denying that these experiences will actually happen to us. The recent worldwide pandemic has thrust upon us the nature of our vulnerability and the intense grief that is experienced when we lose those we love. There is no way to 'cure' grief, but experiencing grief and dying in a landscape of compassion can be healing and transformative. In this book, Darcy Harris and Andy Ho bring together the sharpest minds in the world of compassion science and examine how a compassionate focus can be applied to grief, death, and dying. This is simply a must read for all clinicians wanting to improve their compassionate understanding and practice." -
James N. Kirby, PhD, senior lecturer, codirector, The Compassionate Mind Research Group, School of Psychology, The University of Queensland.

"A valuable book for those who bear witness to grief and as well for those traveling in the landscape of grief." - Roshi Joan Halifax, PhD, founder and abbot, Upaya Zen Center.

"One of the only things that binds together all of the billions of people on this planet is that we will all experience grief and loss at various stages of our life. In this important and timely book, internationally renowned researchers and clinicians outline the central role that compassion has in working with grief and loss. Covering a comprehensive range of topics, this book provides essential reading for all of us, and in particular, anyone working with these painful experiences." - Chris Irons, PhD, DClinPsy, clinical psychologist and director, Balanced Minds Compassion-Focused Psychological Services and Resources.

"As medicine becomes more technology focused, with ever increasing emphasis on biological aspects of healthcare delivery, what is often lost is recognition of the human side of medicine. Now more than ever, patients and their families—especially those who are facing loss and grief—crave approaches that recognize personhood and the need for compassion. Drs. Harris and Ho have assembled an impressive, international group of leading clinicians and researchers in the theory and practice of compassion-informed care. As the world continues to grapple with the tragedy of COVID-19, the timing for a book focused on compassion could not be better." - Harvey Max Chochinov, OC, OM, MD, PhD, FRCPC, FRSC, distinguished professor of psychiatry, University of Manitoba, and senior scientist, CancerCare Manitoba Research Institute.

"Compassion is the wellspring we draw upon when confronted with suffering: it is the invisible thread that connects us to our fellow beings. This thoughtfully conceived and brilliantly executed volume fully explores what it means to bring compassion to the encounters we have with other people—clients, inhabitants of our community and our world—and to the relationship we have with ourselves. Compassion-Based Approaches in Loss and Grief is an immensely practical book that reflects the contributors' commitment to inspiring compassionate action at every level of human interaction, from therapeutic relationships to community organizations to political structures, with abundant illustrations of how these goals can be advanced. Detailed examples of compassion-based approaches to grief support make the book one that clinicians will want to keep close at hand. Compassion-Based Approaches in Loss and Grief is truly a gift for helping professionals and for anyone who wants to be a healing presence in a world that is very much in need of healers." - Phyllis Kosminsky, PhD, LCSW, FT, author of Attachment Informed Grief Therapy: A Clinician's Guide to Foundations and Applications

"This landmark book bridges compassion-based approaches with current theory and practices in loss, grief, and bereavement. The reader is taken on a journey from foundational concepts in these two fields to a deep understanding of clinical applications of compassion focussed grief therapy. Deftly edited by two leading researchers and clinicians with contributions from a list of international authors, Compassion-Based Approaches in Loss and Grief reviews the recent and burgeoning research in compassion and grief and invites the reader to consider how we can engage with suffering as we seek to relieve it within ourselves and those we care for. Notably, the book moves beyond an individual's perspective to consider broader social, organisational, and political structures and the place of compassion within them. This is a highly significant contribution to the fields of loss, grief, and compassion and fills a profound void in the literature. Compassion-Based Approaches in Loss and Grief is an essential read for those concerned with the understanding and relief of suffering and the development of skills to assist those we support." - Christopher Hall, CEO, Australian Centre for Grief and Bereavement.

"Anchored in science and the wisdom of clinical practice, Compassion-Based Approaches in Loss and Grief is an invaluable resource for compassionate person-centered care. The rich offerings of this book—from self-compassion to counseling techniques and social perspectives—will inspire, empower, and guide you on your healing journey with those you care for." - Dale G. Larson, PhD, professor of counseling psychology, Santa Clara University, and author of The Helper's Journey: Empathy, Compassion, and the Challenge of Caring
About the Editor(s)
Darcy L. Harris, PhD, RN, RSW, FT, is an associate professor in the Department of Interdisciplinary Programs and the coordinator of the Thanatology Program at King's University College at Western University in London, Ontario, Canada. She also maintains a private clinical practice and does consulting and presentation work specializing in issues related to change, loss, transition, and grief.
More titles by Darcy L. Harris
Andy H. Y. Ho is an associate professor of psychology and medicine at Nanyang Technological University in Singapore. He is also the 2022-2023 president of the Association for Death Education and Counseling and a board director of the International Work Group on Death, Dying, and Bereavement.
You may also like