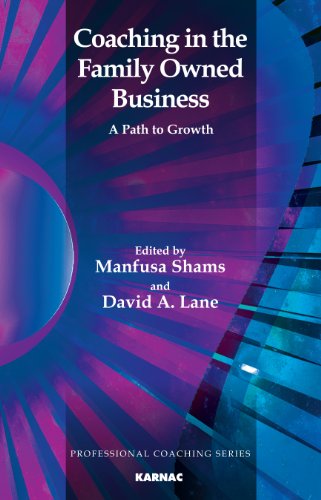 Book Details
Publisher : Routledge
Published : 2011
Cover : Paperback
Pages : 168
Category :
Coaching
Catalogue No : 28622
ISBN 13 : 9781855757882
ISBN 10 : 1855757885
Also by David A. Lane
Also by Manfusa Shams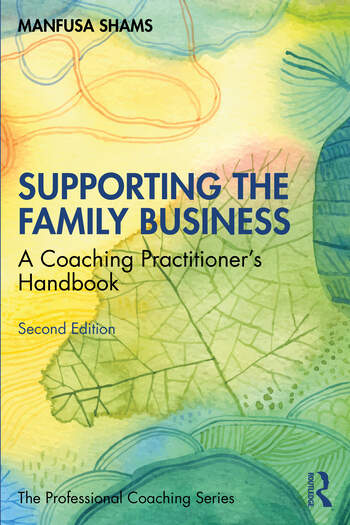 A scholarly work from leading coaching psychologists from all over the world that provides thoughtful analysis of group dynamics, family systems, and psychotherapeutic approach to family business coaching. The book provides both a theoretical groundwork and a practical application of group dynamic issues to family business coaching practices and will be a key reference for family businesses, practitioners, business coaches, researchers, postgraduate students, and coaching professionals.
Reviews and Endorsements
'As coaching matures, more and more areas of business are realizing that solid, evidence-based coaching can significantly enhance organizational performance and personal wellbeing. The one area of business that has not received much attention in the coaching literature to date is the area of family owned businesses. Because family owned businesses intertwine dynamic personal and professional issues in a uniquely complex and often convoluted fashion, standardized models of executive and business coaching often fail to address such business's real needs. At last we have a book that rises to this challenge. Edited by two highly regarded coaching psychologists, this book will provide vital insights and tools for those coaching in this emerging and important area. I recommend it to you.'
- Anthony M. Grant, PhD, Director Coaching Psychology Unit, University of Sydney, Australia

'People who coach enjoy conversations that are about coaching as it really is: wondrous, unpredictable, and imperfect. But to become both skilful and consistent practitioners we really need to be conversant with relevant, trusted psychological theory as well. Happily for us, this book brings the real and the theoretical conversations together.'
- Paul Furey PhD, CPsychol MD, and Principal Consultant, Performance Enhancement Consulting (PEC) Ltd, UK

'The book offers a fascinating insight into an under-researched area of coaching practice. It provides a useful source for those working in this area of practice and will be of interest to those interested in international perspectives as well as wide issues such as family
dynamics.'
- Dr Jonathan Passmore, Director of the Coaching Psychology Unit,
University of East London, UK
About the Editor(s)
Manfusa Shams, CPsychol, CSci, AFBPsS, is Consulting Editor of The Coaching Psychologist. She is a Registered Chartered Psychologist, Chartered Scientist, and Associate Fellow of the British Psychological Society (BPS). She is former Deputy Chair for the BPS's committee for teaching of psychology to other professions, and a member of the BPS Special Group in Coaching Psychology. She is former Associate Editor of The Psychologist, Editor of the BPS psychology of women section newsletter, Book Review Editor of the BPS psychology of women section review, and a Guest Editor of the Asian Journal of Social Psychology. Among her major publications is a co-edited book on Developments in Work and Organizational Psychology: Implications for International Business (Elsevier, 2006), and two leading journals: The Psychologist (special issue, 2005), and Asian Journal of Social Psychology (special issue, 2005). She is a registered test reviewer at BPS Psychological Testing Centre, an experienced author, editor, supervisor, peerreviewer, and group facilitator. She completed her PhD in Occupational Psychology from the Institute of Work Psychology, Sheffield University as a Commonwealth Scholar. She has teaching, consultancy, and research experience of almost twenty years. At present, she is teaching at the Open University in England.
David A. Lane is a chartered psychologist and Director of the Professional Development Foundation. He contributes to leading edge research in coaching as well as supervising leading coaches undertaking doctoral research. He was Chair of the British Psychological Society Register of Psychologists Specialising in Psychotherapy and convenor of the Psychotherapy Group of the European Federation of Psychologists' Associations.
You may also like