Clinical Manual of Couples and Family Therapy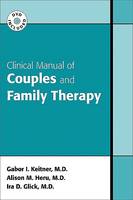 Also by Ira D. Glick

Studies have proven that involving the family in psychiatric care is efficacious, and yet many clinicians lack the specific knowledge and skills to do this successfully. The Clinical Manual of Couples and Family Therapy outlines practical, evidence-based family therapy skills, and it also reestablishes the role of the psychiatrist as the leader of the team of professionals providing mental health care to patients in need.
This concise manual outlines distinct steps in assessment and treatment within a biopsychosocial organizing framework that can be applied to all families, regardless of the patient's presenting problem. It also clarifies the clinical decision-making process for determining level of family involvement in patient care in different clinical settings. The book includes numerous case examples as well as a companion DVD, keyed to the text discussion, that demonstrates how to perform a family assessment and treatment.
All psychiatrists should be proficient in assessing the familial context in which a patient's psychiatric illness evolves. The Clinical Manual of Couples and Family Therapy is a practical guide designed to facilitate a clinician's ability to evaluate and treat couples and families in a psychiatric setting.
You may also like