Clinical Encounters in Sexuality: Psychoanalytic Practice and Queer Theory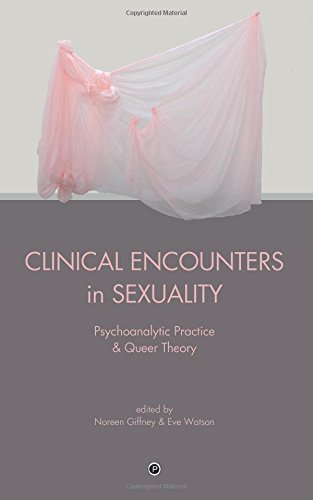 Book Details
Publisher : Punctum Books
Published : 2017
Cover : Paperback
Category :
Psychoanalysis
Catalogue No : 40524
ISBN 13 : 9780998531854
ISBN 10 : 0998531855
Also by Eve Watson
Also by Noreen Giffney
Clinical Encounters in Sexuality makes an intervention into the fields of clinical psychoanalysis and sexuality studies, in an effort to think about a range of issues relating to sexuality from a clinical psychoanalytic perspective. This book concentrates on a number of concepts, namely identity, desire, pleasure, perversion, ethics and discourse. The editors, Noreen Giffney and Eve Watson, have chosen queer theory, a sub-field of sexuality studies, as an interlocutor for the clinical contributors, because it is at the forefront of theoretical considerations of sexuality, as well as being both reliant upon and suspicious of psychoanalysis as a clinical practice and discourse. The book brings together a number of psychoanalytic schools of thought and clinical approaches, which are sometimes at odds with one another and thus tend not to engage in dialogue about divisive theoretical concepts and matters of clinical technique. Traditions represented here include: Freudian, Kleinian, Independent, Lacanian, Jungian, and Relational.
The volume also stages, for the first time, a sustained clinical psychoanalytic engagement with queer theory. By virtue of its editorial design, this book aims to foster a self-reflective attitude in clinical readers about sexuality which historically has tended toward reification. The central questions we present to readers to think about are:
* What are the discourses of sexuality underpinning psychoanalysis, and how do they impact on clinical practice?
* In what ways does sexuality get played out for, and between, the psychoanalytic practitioner and the patient?
* How do social, cultural and historical attitudes towards sexuality impact on the transference and countertransference, consciously and unconsciously?
* Why is sexuality so prone to reification?
Divided into three sections, Clinical Encounters in Sexuality begins with six chapters on important themes in queer theory: identity, desire, perversion, pleasure, discourse and ethics. Section two includes fourteen responses to the chapters in section one by practising psychoanalysts and psychoanalytic psychotherapists from a number of traditions. They work with adults and/or children and adolescents. Section three features seven short commentaries on the nature of the encounters enacted by the book, by leading thinkers whose own clinical practice and/or theoretical work engages directly with both discourses: psychoanalytic and queer. The book is edited by two psychoanalytic practitioners — one Kleinian, one Freudian-Lacanian — who also have research expertise in sexuality studies. All pieces are new and have been commissioned.
Contributors: Mark J. Blechner, Kathryn Bond Stockton, Ken Corbett, Olga Cox Cameron, Tim Dean, Lisa Downing, Lara Farina, L.O. Aranye Fradenburg, Stephen Frosh, Judy Gammelgaard, Abe Geldof, Patricia Gherovici, Noreen Giffney, R.D. Hinshelwood, Ami Kaplan, Claudette Kulkarni, Alice Kuzniar, Ann Murphy, Ona Nierenberg, Dany Nobus, Noreen O'Connor, Carol Owens, Ian Parker, Jacqueline Rose, Medb Ruane, Michael D. Snediker, Will Stockton, Susan Stryker, Paul Verhaeghe, Eve Watson, Rob Weatherill, Katrine Zeuthen.
About the Editor(s)
Noreen Giffney works as a psychoanalytic psychotherapist in Dublin, Ireland. She also provides supervision to clinical practitioners conducting research in the fields of psychoanalysis and psychotherapy. She is the convener of Psychoanalysis +, an interdisciplinary initiative that brings together clinical, academic and artistic approaches to, and applications of, psychoanalysis.
Eve Watson works in Dublin as a psychoanalytic practitioner, clinical supervisor and academic. She is involved in teaching and training in psychoanalysis, psychotherapy and teacher education. She writes on psychoanalysis, sexuality studies, critical psychology, poetics, film and critical theory.
You may also like