Buzzed: The Straight Facts About the Most Used and Abused Drugs from Alcohol to Ecstasy: Fourth Edition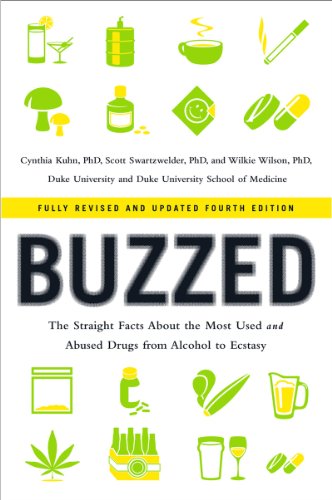 Book Details
Publisher : W.W.Norton
Published : 2014
Cover : Paperback
Pages : 384
Category :
Addictions
Category 2 :
Popular Psychology
Catalogue No : 36507
ISBN 13 : 9780393344516
ISBN 10 : 0393344517
Also by Cynthia Kuhn
Also by Scott Swartzwelder
Paperback
£14.99
Usually despatched within 4-5 working days
Free UK Delivery over £25
This title has been delisted and is no longer available to purchase
The fourth edition of the essential, accessible source for understandinghow drugs work and their effects on body and behavior.
A bestseller in its three previous editions, Buzzed is now revised and updated with the most recent discoveries about drugs. It includes new information about biological and behavioral changes in addiction, the prescription-drug abuse epidemic, distinctive drug effects on the adolescent brain, and trends from synthetic cannabinoids to e-cigarettes.
"Lively, highly informative, unbiased, [and] thorough" (Addiction Research & Theory), this no-nonsense handbook surveys the most used and abused drugs from caffeine to heroin to methamphetamine. In both quick-reference summaries and in-depth analysis, it reports on how these drugs enter the body, how they manipulate the brain, their short-term and long-term effects, the different "highs" they produce, and the circumstances in which they can be deadly. Neither a "just say no" treatise nor a "how-to" manual, Buzzed is based on the conviction that people make better decisions with accurate information in hand.
About the Author(s)
Cynthia Kuhn is professor of pharmacology at the Duke University School of Medicine.
Scott Swartzwelder, PhD is a professor of psychiatry at the Duke University School of Medicine.
Wilkie Wilson is professor of prevention science at Duke University.
You may also like