Becoming a Therapist: What Do I Say, and Why?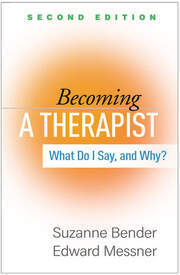 Book Details
Publisher : Guilford Press
Published : July 2022
Cover : Paperback
Pages : 472
Category :
Individual Psychotherapy
Catalogue No : 96593
ISBN 13 : 9781462549467
ISBN 10 : 9781462549
Also by Edward Messner
Revised and expanded for the digital age, this trusted guidebook and text helps novice psychotherapists of any orientation bridge the gap between coursework and clinical practice. It offers a window into what works and what doesn't work in interactions with patients, the ins and outs of the therapeutic relationship, and how to manage common clinical dilemmas. Featuring rich case examples, the book speaks directly to the questions, concerns, and insecurities of novice clinicians. Reproducible forms to aid in treatment planning can be downloaded and printed in a convenient 8 1/2" x 11" size.
New to This Edition:
*Reflects two decades of technological changes--covers how to develop email and texting policies, navigate social media, use electronic medical records, and optimize teletherapy.
*New chapters on professional development and on managing the impact of therapist life events (pregnancy and parental leave, vacations, medical issues).
*Instructive discussion of systemic racism, cultural humility, and implicit bias.
*Significantly revised chapter on substance use disorders, with a focus on motivational interviewing techniques.
*Reproducible/downloadable Therapist Tools.
Reviews and Endorsements
"Bender and Messner offer a highly engaging, nonjudgmental, and clear description of the nuts and bolts of therapy. Practical tools, real-world scripts, and excellent case examples make this book stand out. With its down-to-earth approach, this book provides a wealth of knowledge and wisdom for beginning therapists!" - Pamela A. Hays, PhD, author of Addressing Cultural Complexities in Counseling and Clinical Practice

"I highly recommend this text for master's-level clinical mental health counseling courses. Bender and Messner provide very practical 'dos and don'ts' for developing the therapeutic relationship and maintaining the therapeutic alliance. The training process for beginning counselors can be extremely anxiety provoking, as students move from hypothetical situations to actual client interactions and engagement. Becoming a Therapist, Second Edition, recognizes and honors the transition to clinical practice and provides real-time support for students' feelings and experiences" - Robtrice D. Brawner, PhD, LCPC, Department of Psychology, Professional Counseling, and Neuroscience, University of Wisconsin–Parkside.

"For years, I've recommended Becoming a Therapist to trainees seeking a thoughtful, accessible approach to learning psychotherapy, as well as to faculty supervising them. The second edition is even better than the first, expanding its reach to so many topics relevant for 21st-century practice. Bender and Messner exhibit a unique ability to connect with the beginner's mind and provide wise guidance on complex topics. Reading this book is like conversing with the authors about a range of everyday tricky situations in clinical practice, and leaving with a treasure trove of ideas, scripts, tools, and further resources to try out." - Donna T. Chen, MD, MPH, Department of Psychiatry and Neurobehavioral Sciences, University of Virginia.
About the Author(s)
Suzanne Bender,, MD, is a Staff Psychiatrist in the Division of Child and Adolescent Psychiatry at Massachusetts General Hospital (MGH) and Assistant Professor in Psychiatry, part-time, at Harvard Medical School. Within the Department of Pediatric Gastroenterology (GI) and Nutrition Department at MGH for Children (MGHfC), she is the Co-Director of the MGHfC Pediatric GI Psychiatry program. Dr. Bender teaches a weekly year-long course on child and adolescent psychodynamic psychotherapy in the MGH/McLean Child and Adolescent Psychiatry Fellowship Program. She has received five departmental teaching awards and three departmental mentoring awards from the graduating classes of the Child Psychiatry Fellowship. Dr. Bender has a private practice in Newton, Massachusetts, specializing in psychotherapy and psychopharmacology with children, adolescents, and adults.
Edward Messner, MD, until his death in 2006, was a Senior Psychiatrist at Massachusetts General Hospital (MGH) and Associate Clinical Professor of Psychiatry at Harvard Medical School. Dr. Messner trained as a psychiatrist at the Boston VA Hospital, at Boston's Thom Clinic, and at MGH. He also graduated from the Boston Psychoanalytic Institute as a certified psychoanalyst. Dr. Messner received the Teacher of the Year award from the MGH Department of Psychiatry eight times. To honor him and his qualities of "kindness, compassion, understanding, insightfulness, humility, and selflessness in his daily work with patients and as an untiring teacher and supervisor of residents," the MGH/McLean Adult Psychiatry Residency created the Edward Messner Faculty and Resident Awards in 2008. These awards annually recognize outstanding and committed teaching in Adult Psychiatry by both a faculty member and a graduating resident.
You may also like