Art Therapy and Creative Aging: Reclaiming Elderhood, Health and Wellbeing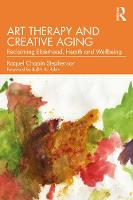 Book Details
Publisher : Routledge
Published : July 2021
Cover : Paperback
Pages : 160
Category :
Expressive Arts Therapies
Catalogue No : 95640
ISBN 13 : 9780367362256
ISBN 10 : 9780367362
Art Therapy and Creative Aging offers an integrated perspective on engaging with older people through the arts. Drawing from the author's clinical, research and teaching experiences, the book explores how arts engagement can intertwine with and support healthy aging.
This book combines analysis of current development theory, existing research on creative programs with elders, and case examples of therapeutic experience to critically examine ageism and demonstrate how art therapy and creative aging approaches can harness our knowledge of the cognitive and emotional development of older adults. Chapters cover consideration of generational, cultural, and historical factors; the creative, cognitive and emotional developmental components of aging; arts and art therapy techniques and methods with older adults with differing needs; and examples of best practices.
Creative arts therapists, creative aging professionals, and students who seek foundational concepts and ideas for arts practice with older people will find this book instrumental in developing effective ways of using the arts to promote health and well-being and inspire engagement with this often-underserved population.
Reviews and Endorsements
Art Therapy and Creative Aging: Reclaiming Elderhood, Health and Wellbeing, by Dr. Raquel Chapin Stephenson, is an inspiring book that explores how the creative process can facilitate continuous growth - meaning and fulfillment - way into our old age. The book is rich in theory and technique for the practicing art therapist, while offering fascinating case illustrations from the author's clinical practice. Art Therapy and Creative Aging will be a rare treasure not only for art therapists but for all mental health professionals and caregivers for the elderly, as well as a more general audience interested in creativity in a lifespan context. - Ikuko Acosta, PhD, ATR-BC, LCAT, clinical professor and director of the Graduate Art Therapy Program, New York University.

If you're tired of being inundated with the multitude of negative, hopeless tropes about aging and healthcare, let this uplifting, practical book flip that paradigm. True to Dr. Stephenson's ever hopeful and plainspoken presence, she expertly captures the joys of lifelong arts participation for older adults, their caregivers, and the professional artists who engage them. Threading personal recollection together with research and practice, the intersection of arts and health comes alive. This book isn't just for people with innate artistic ability. The teaching artist's kinship with imagination and improvisation frees us in older age from the limits of memory, bringing us renewed purpose, and closer to our most divine selves. Sparks abound! - Janine Tursini, director & CEO, Arts for the Aging, Inc.

A thorough insight into the empowering potential of creativity and the arts in older age, written with heartfelt warmth and respect. The stories of people involved in art therapy and the therapist's story are intertwined and linked to theoretical approaches and evidence from research. The book offers useful working methods including Expressive Therapies Continuum revised for the older people and people with dementia. Stephenson's interest in the developmental growth inherent in the aging and multifaceted relationships with the arts make this book a valuable reading resource also for a wider readership. - Eha Ruutel, PhD, professor of Creative Arts Therapies, Tallinn University.
About the Author(s)
Raquel Chapin Stephenson, PhD, ATR-BC, LCAT is an associate professor and art therapy program co-ordinator at Lesley University.
You may also like