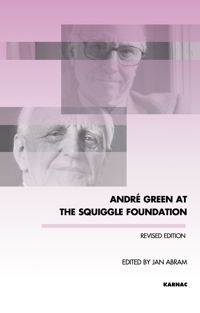 Book Details
Publisher : Routledge
Published : May 2016
Edition : Revised
Cover : Paperback
Pages : 144
Category :
Psychoanalysis
Catalogue No : 37767
ISBN 13 : 9781782203902
Also by Jan Abram
Despite being one of the foremost psychoanalysts working today, much of Andre Green's work has until recently been unavailable in English. This work aims to rectify this, by collecting together five lectures given to the Squiggle Foundation in London. This accessible and clearly written book provides a unique introduction to Green's work and its relation to the work of D.W. Winnicott, as promoted by the Squiggle Foundation itself.
The Squiggle Foundation has as its goal "to study and cultivate the tradition of D.W. Winnicott", and has achieved an international reputation in doing so. Dr Green's lectures touch particularly on the links between his thought and that of Winnicott - as can be seen from the lecture titles: "Experience and Thinking in Analytic Practice", "Objects(s) and Subject", "On Thirdness", "The Posthumous Winnicott: On Human Nature", and "The Intuition of the Negative Playing and Reality". The book also contains an Introduction by Jan Abram, setting out the main currents of Green's thought, and describing his long and fruitful relationship with the Squiggle Foundation.
Clearly written and easily understood, the lectures provide a unique introduction to the work of Green and Winnicott, two of the foremost practitioners and authors that psychoanalysis has produced.
Reviews and Endorsements
'This powerful book is built around five stimulating chapters, through which we meet a very lively André Green addressing a British audience in a generous and free way, as he guides us through his deep understanding of Winnicott and its influence on his own work. Thanks to Jan Abram, who edited André Green's lectures, this book is as much about "Playing with Green" as it is about "Playing with Winnicott". In her very welcome new introduction to this second edition, Abram highlights Green's creativity, his major concepts, and his intimate knowledge of Winnicott. She also introduces her own line of thought, which is an added bonus.'
— Nathalie Zilkha, training and supervising psychoanalyst in the Swiss Psychoanalytic Society

'André Green emphasises in these exchanges his interest in Winnicott's works and their influence on his thoughts on absence, loss, and non-existence. This new English edition of this book will continue to contribute to a reciprocal enrichment between French and British psychoanalysts.'
— Alain Gibeault, training and supervising analyst of the Paris
Psychoanalytical Society

'This book is a wonderful reflection of André Green and his work as an analyst, a theoretician, and a Winnicottian. Jan Abram captures Green's capacity to "play with reality" despite his dour demeanour of "looking over his glasses without a smile". We thank her for this human portrait of a passionate, often controversial, analyst who dedicated his life to understanding the unconscious psyche.'
— Kathleen Kelley-Lainé, member of the Société Psychanalytique de Paris, and author of Peter Pan: The Story of Lost Childhood
About the Editor(s)
Jan Abram is a training and supervising analyst of the British Psychoanalytical Society in private practice in London. She is the author of The Language of Winnicott (awarded Outstanding Academic Book of the Year; 2nd edition 2007) and editor of Donald Winnicott Today (nominee for a Gradiva Award, 2013). She is currently visiting professor University College London. Her forthcoming book is a collection of her clinical papers, The Surviving Object.
You may also like