The Clinical Paradigms of Donald Winnicott and Wilfred Bion: Comparisons and Dialogues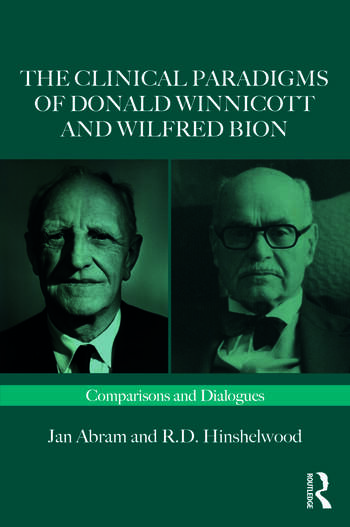 Book Details
Publisher : Routledge
Published : June 2023
Cover : Paperback
Pages : 198
Category :
Psychoanalysis
Catalogue No : 97229
ISBN 13 : 9781032465821
ISBN 10 : 1032465824
Also by Jan Abram
Also by R.D. Hinshelwood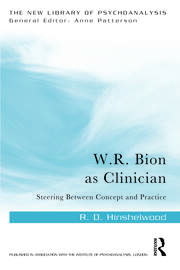 This book introduces the psychoanalytic principles of both Winnicott and Bion, to compare the ways in which their concepts evolved, and to show how their different approaches contribute to distinctive psychoanalytic paradigms that warrant further research.
The book is comprised of five parts, each of which ends with a dialogue between authors, to provide an in-depth look at the perspectives of Winnicott and Bion on the following issues: the British Psychoanalytical Society; working with children and groups; the formulation of psychoanalytic principles; the consolidation of their ideas and new beginnings; and their clinical approaches. Structuring an analysis of Winnicott and Bion's work in this way simultaneously acts as a comprehensive introduction to their thinking and provokes further research into the ways in which the Winnicottian and Bionian traditions interact.
The Clinical Paradigms of Donald Winnicott and Wilfred Bion will appeal to all those seeking an introduction to psychoanalytic ideas and to these two schools of British Object Relations especially.
Reviews and Endorsements
'If Bion and Winnicott were to have had a discussion, what might it have been like? The need for this conversation to happen has passed down through the analytic generations and has here reached a very challenging and informed expression in the hands of Abram and Hinshelwood.'
Nicola Abel-Hirsch, training and supervising analyst BPaS and author of Bion 365 Quotes and Bion: An Introduction

'This second book in the series authored by Jan Abram and Bob Hinshelwood, fulfils its promise of opening up discussion and debate about the work of Wilfred Bion and Donald W. Winnicott. These two giants of mid-20th Century psychoanalysis were both born before the turn of the 19/20th century but were of different psychoanalytic generations. They were both personally marked by the horrors of the world wars, which in different ways affected their contributions to psychoanalysis, as they each took the influence of Melanie Klein in radically different directions. There is a freshness and immediacy to the to-and-fro of the dialogue between these two experts in their field, which follows the exposition of Bion and Winnicott's central concepts. The dialogue does much to shed light on the often confused equivalences that have been made between such concepts as "holding" in Winnicott and "container-contained" in Bion, both emphasising the differing roots in each conceptual frame and their consequence for clinical practice. The exchanges between Abram and Hinshelwood are exploratory and frank, respectful and challenging. In our discipline, that can sometimes divide along partisan lines, this is a refreshing and informative read.'
Angela Joyce, training and supervising analyst BPaS, former chair The Winnicott Trust

'Jan Abram and R.D. Hinshelwood are famous for their scholarship on the Winnicott and Kleinian tradition respectively, integrated in a great clinical experience. In this book they compare Winnicott and Bion head-to-head qua background, evolution, major concepts and psychoanalytic practice. The result is refreshing and easy to read. Not only the differences but also the common background (e.g. Klein's influence), and the intertwinement of their concepts is highlighted. I enjoyed the lively discussion between Abram and Hinshelwood at the end of each part, that often led to surprising new points of view.'
Rudi Vermote, training and supervising analyst, Belgian Psychoanalytic Society, author of Reading Bion
Table of Contents

Introduction

Part One: The British Psychoanalytical Society
1. Donald Winnicott and Kleinian Development
2. Wilfred Bion and Klein's Schizoid Mechanisms Summary Dialogue

Part Two: Working with Children and Groups
3. Babies and their Families
4. Psychodynamics and the Psychosocial Summary Dialogue

Part Three: The Principle Formulations
5. Holding
6. Transformations Summary Dialogue

Part Four: Consolidation and New Beginnings
7. From Primary Maternal Preoccupation to the Use of an Object
8. Rethinking and Making an Impact Summary Dialogue

Part Five: Clinical Approach
9. 'A Sample of the Original Failure'
10. Content and Process

Summary
Dialogue
Glossary
About the Author(s)
Jan Abram is a training and supervising analyst of the British Psychoanalytical Society in private practice in London. She is the author of The Language of Winnicott (awarded Outstanding Academic Book of the Year; 2nd edition 2007) and editor of Donald Winnicott Today (nominee for a Gradiva Award, 2013). She is currently visiting professor University College London. Her forthcoming book is a collection of her clinical papers, The Surviving Object.
R.D. Hinshelwood is a member of the British Psychoanalytical Society, and currently holds the post of Professor of Psychoanalysis at the Centre for Psychoanalytic Studies, University of Essex. He is a Fellow of the Royal College of Psychiatrists, and previously was Clinical Director of the Cassel Hospital in Richmond. He is a past Chair of the Association of Therapeutic Communities. Professor Hinshelwood has written extensively on psychoanalysis and founded the International Journal of Therapeutic Communities (now Therapeutic Communities) in 1980 and the British Journal of Psychotherapy in 1984.
You may also like