An Arts Therapeutic Approach to Maternal Holding: Developing Healthy Mother and Child Holding Relationships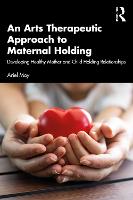 Little research has explored the everyday, simple and long-term experience of maternal holding, particularly after the first year of a child's life. The research that has been undertaken commonly examines holding through the lens of attachment with a focus on the impact of holding upon the child. Employing an arts-based collaborative inquiry approach, participants' stories of holding, as well as the author's own, convey the significant maternal experiences of holding their children over individual arts therapeutic sessions. Optimal moments of holding included strange, powerful and meaningful experiences of expansion into self-in-relationship. Attention is drawn to the ways in which holding can alert us to the current state of mother/child relationships; how we understand, story and structure those relationships; and the ways in which we can attend to holding in order to develop deeply satisfying experiences of a mother/child 'us'.
An Arts Therapeutic Approach to Maternal Holding aims to draw attention to the intersubjective qualities of the mother/child relationship, explore why holding matters, and offer suggestions for therapeutic practice. This book is essential reading for therapeutic practitioners and those in allied health fields who work with mothers and children.
Reviews and Endorsements
"Dr Moy's inquiry into mothers' experiences of holding their children goes right to the visceral core of the mother-infant bond. Attachment theory has described relational patterns with great objectivity, but misses the fluidity of body-based interactions between mother and child. Theory focuses on the child, and assumes very basic stereotypes for the mother. Dr Moy breaks new ground by attending to the mother's perspective and experiences. Using an approach that honours various ways of knowing, including arts expression, Dr Moy provides nuanced images of mothering, its trials and rewards. When it is properly recognised and valued, holding deepens her attunement to the infant, soothes and satisfies both mother and child, and helps to protect her against post-natal depression. This book will be of great value to mothers, mothers to be, and also to therapists working in the area of mother-child relationships." - Mary Duffy is an artist, art therapist and former president of the Jung Society of Melbourne.

"Dr Ariel Moy presents her research in an engaging format, accompanied by artworks which highlight the depth of emotional expression evoked by this therapeutic approach. She has a warm and expressive writing style which allows the reader to become immersed in therapist and client perspectives alike. In sharing her own mothering and holding experiences with her audience via her book and website, she shows a vulnerability and relatability that is missing in many therapeutic publications." - Dr Tanya Osicka, Health Psychologist.

"This book, while offering a new way of conceptualising maternal holding, will make sense to readers as they resonate with the findings through their own experiences of holding. This sense of resonance, or 'ringing true' is one of the markers of excellence in qualitative and arts based studies - readers will feel as though Dr Ariel Moy is giving voice to something they already know, but have been previously unable to articulate or to find mirrored in the dominant cultural stories around motherhood. The particular beauty of this book is that it includes visual artwork to present and communicate qualities, nuances and sensibilities of maternal holding and the mother/child 'Us' via aesthetic means, enabling a more holistic understanding of the subject than other available texts.

In these ways, this new book "An Arts Therapeutic Approach to Maternal Holding: Developing Healthy Mother and Child Holding Relationships" is very important, and a great gift to the field. It will be of immense interest to Mothers, people interested in Mothering, and professionals of diverse disciplines who work with Mothers and children. Congratulations, and thank you Ariel for this wonderful work." - Dr Carla van Laar MCAT Prof Doc TAP AThR
About the Author(s)
Ariel Moy is a Teacher and Research Supervisor in therapeutic arts practice at The MIECAT Institute in Melbourne, Australia and has a private practice focusing on mother/child relationships.


You may also like