All My Sins Remembered: Another Part of a Life & The Other Side of Genius: Family Letters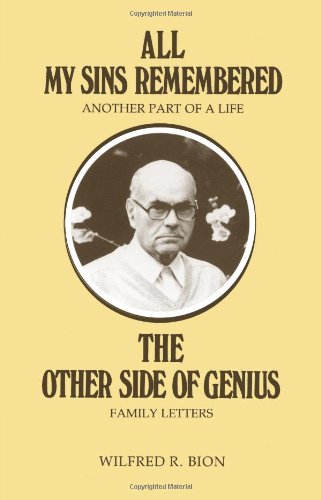 Book Details
Publisher : Routledge
Published : 1991
Cover : Paperback
Pages : 254
Category :
Psychoanalysis
Category 2 :
Memoir
Catalogue No : 2681
ISBN 13 : 9781855758452
ISBN 10 : 1855758458
Also by Wilfred R. Bion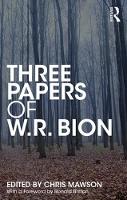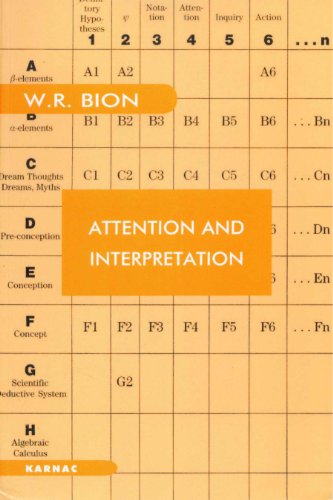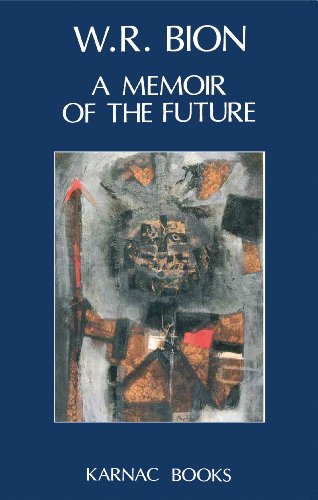 All My Sins Remembered is the continuation of Wilfred Bion's autobiography, The Long Week-end. Although it is by no means a full account of his thirty years following the First World War - and he wrote no more - his memories of that period contrast vividly with the impression we gain of the following thirty years of his life through his letters.
The Other Side of Genius gives us a glimpse of this remarkable man as his family knew him: those who met him only through his professional work will find here the same characteristic threads of humour, concern for truth, and flashes of insight that were the hallmark of his work in psycho-analysis.
OXFORD: 'Thus opened for me a period of unparalleled opportunities to which I remained obstinately blind. I was overwhelmed before I started by the aura of intellectual brilliance with which Oxford was surrounded'.
'I had a marvelous time, but did not realize that was because Oxford was a marvelous university where I had the chance of meeting and forming friendships with people of an age and outlook which could change me for ever'.

MEDICAL SCHOOL: 'I did not regard my acceptance by the medical school with any enthusiasm; I cannot now understand the solidity of the foundation of self-satisfaction and complacency that carried me through a period of failure and a prospect of even worse to come. I remained dangerously unaware of the universe in which I continued to live'.
'University College, London made me feel at home. I did not like its long echoing corridors . Nevertheless I felt that here in this part of London I was more nearly in my Class'.

WORLD WAR II: 'the stink of the corpse of Imperial Germany mingled with the stink of decay from Imperial Britain was what the athletic perfume of post-war Oxford had failed to disguise in 1919. This was twenty years later and I still could not get the smell of Glory out of my hair'.
'I cannot remember being awarded a Victory medal but I am sure that a grateful establishment would have inflicted one on my completion of so many years of undetected nothingness, the ribbon designed in lavish colors of a nightmare of a morning after the night before'.

LETTERS I: 'How much you mean to me I cannot say: I want to feel that I shall be able to go on trying to find ways of saying it through the years.'
'I feel the one thing that can make all things possible already exists, and that it is that between you and me there is already an enduring love that cannot be easily shaken even in this uncertain and painful world'.
'I hope you will feel blessed in your family as a source of deep joy and happiness that nothing can take away from you no matter what anxieties and troubles may be in store'.

LETTERS II: 'Imagination is very valuable. Without it you cannot see your way, but it must not become a substitute for real life'.
'The discovery that you have a MIND is always a shock because you never know what the strange object is going to turn out to be'.
'Depression and failure are a part of every life even the most happy and successful - I might say especially of the most happy and successful; it is the price you pay for joy and success if they come your way. But the price you pay for trying to evade failure and depression is ten times worse.'
'The path of true love is punctuated with divorce as well as marriage; the problem is, when? Before, after or during? It is a decision which is made by two people, both-oddly and painfully enough-in isolation.'
'Life is a kind of Hoffman's orchestra - if you have a bit of hosepipe and can use it as a French horn it is useful.'
About the Author(s)
Wilfred R. Bion (1897 -1979) was born in India and first came to England at the age of eight to receive his schooling. During the First World War he served in France as a tank commander and was awarded the DSO and the Legion of Honour. After reading history at Queen's College, Oxford, he studied medicine at University College London, before a growing interest in psychoanalysis led him to undergo training analysis with John Rickman and, later, Melanie Klein. During the 1940s his attention was directed to the study of group processes. Abandoning his work in this field in favor of psychoanalytic practice, he subsequently rose to the position of Director of the London Clinic of Psychoanalysis (1956-62) and President of the British Psychoanalytical Society (1962-65). From 1968 he worked in Los Angeles, returning to England two months before his death in 1979.

A pioneer in group dynamics, he was associated with the 'Tavistock group', the group of pioneering psychologists that founded the Tavistock Institute in 1946 on the basis of their shared wartime experiences. He later wrote the influential Experiences in Groups, an important guide for the group psychotherapy and encounter group movements beginning in the 1960s, and which quickly became a touchstone work for applications of group theory in a wide variety of fields. Bion's training included an analysis with Melanie Klein following World War II. He was a leading member in the Kleinian school while in London, but his theories, which were always based in the phenomena of the analytic encounter, eventually revealed radical departures from both Kleinian and Freudian theory. While Bion is most well known outside of the psychoanalytic community for his work on group dynamics, the psychoanalytic conversation that explores his work is concerned with his theory of thinking and his model of the development of a capacity for thought.
You may also like