After Genocide: How Ordinary Jews Face the Holocaust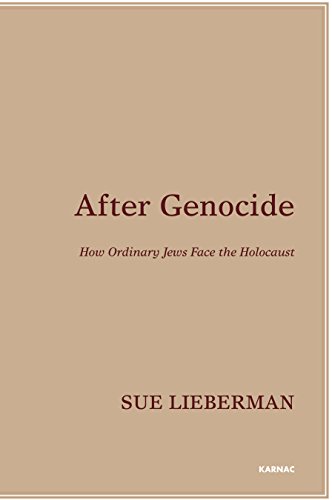 Book Details
Publisher : Routledge
Published : December 2014
Cover : Paperback
Pages : 272
Category :
Psychoanalysis
Category 2 :
Culture and Psychoanalysis
Catalogue No : 35943
ISBN 13 : 9781782201922
ISBN 10 : 1782201920
Our Customers Average Rating
Read all reviews (1)





2015 was the seventieth anniversary of the end of World War Two, and, for Jews, the seventieth anniversary of the end of the worst Jewish catastrophe in diaspora history. After Genocide considers how, more than two generations since the war, the events of the Holocaust continue to haunt Jewish people and the worldwide Jewish population, even where there was no immediate family connection.
Drawing from interviews with "ordinary" Jews from across the age spectrum, After Genocide focuses on the complex psychological legacy of the Holocaust. Is it, as many think, a "collective trauma"? How is a community detached in space and time traumatised by an event which neither they nor their immediate ancestors experienced?
"Ordinary" Jews' own words bring to life a narrative which looks at how commonly-recognised attributes of trauma – loss, anger, fear, guilt, shame – are integral to Jewish reactions to the Holocaust. Two chapters consider how these painful feelings shape two central questions: how the Jewish diaspora relates to Israel; and how a community traumatised however indirectly might free itself from the burden of a heavy past.
After Genocide opens up a neglected dimension of the post-Holocaust legacy. Written for both lay and professional audiences, Jewish and wider, readers will see powerful feelings reflected and explored in ways which are moving and thought-provoking. In addressing the question of collective trauma, it will speak to other peoples with comparable histories. It is a book which many will want to read.
Reviews and Endorsements
'This is a wonderful exploration of why we as "ordinary Jews", to use a term from the book, are still so interested in exploring our feelings towards the Holocaust. "My family may not have gone through the Holocaust, but I am related to it." Why is our relationship to the Holocaust still so strong after so many years? We are taken through the trauma of loss, guilt, shame, fear, and confusion in a moving way, made profoundly real by the experiences of individuals who ask the questions we all ask ourselves. It is a highly professional, literary, and enlightening journey on how we cope with the past.'
— Judy Sischy, an "ordinary Jew"

'Trauma is an ever-present theme for counsellors and psychotherapists, where it is most-often thought about in relation to individual clients and patients. After Genocide offers an original analysis of the long-term impacts of the Holocaust, not for the descendants of those directly affected but for the more numerous "ordinary Jews" on whom Sue Lieberman focuses. Exploring often-perplexing traces of loss, anger, fear, guilt, shame, and other powerful feelings, she offers a lucid and evocative account of the captivating horror of the Holocaust. These insights will provide important resources for practitioners, as well as being an important addition to the academic literature.'
— Professor Liz Bondi, Head of Counselling Studies, Edinburgh University

'The navigation of "collective trauma" is one of the hardest explorations psychoanalytic studies can undertake. When the "collective trauma" is specifically trammelled by the Holocaust and thus possesses the minds and experiences of Jews – whether they be survivors, descendants of survivors, or even those not directly touched in safe havens – the endeavour becomes all the more difficult, all the more complex, all the more variable. It is on this odyssey that Sue Lieberman bravely embarks in After Genocide.'
— Moris Farhi, writer and novelist

'As someone who had read very little about the Holocaust, this book has opened my eyes to what it is like to be Jewish in the west today, and how much the Holocaust continues to affect Jewish people.'
— Sue Collin, retired adult education tutor

'Like most people, I knew the Holocaust had happened but had not really engaged with its huge meanings and implications for myself, for all humanity, and for the Jewish community in particular. Reading Sue Lieberman's book changed all that. In her careful and clear style, she explores the deeper psychological and cultural implications of the horrors of the Holocaust, and raises challenging reflections about the enduring emotional trauma and legacy caused by such a huge rent in our usual expectations of human society. In the context of an emotional landscape involving complex feelings such as shame, rage, and fear, Sue suggests that it is in the talking about and speaking to our feelings personally and culturally that they can be transformed rather than re-enacted. Sue writes about these hugely complex processes in a remarkably measured and thought-provoking way. Reading this book expanded my understanding of hatred, humanity, and healing, and I am grateful for the experience.'
— Sue MacFadyen, psychotherapist
About the Author(s)
Sue Lieberman grew up in London in an "ordinary Jewish" family. She studied history at Bristol University and social administration at York. Her first career in community work led her to work at the policy interface between voluntary organisations and government. In 1988 she began training in psychotherapy, and is qualified as a Group Analytic psychotherapist. She describes the practice of psychotherapy as an endlessly fascinating journey into the human unconscious, and psychodynamic theory as a uniquely rich source of insight and inspiration. She lives in Edinburgh.
Customer Reviews
Our customers have given this title an average rating of 5 out of 5 from 1 review(s), add your own review for this title.
Joan Fogel on 27/08/2015 16:21:58





(5 out of 5)
Sue Lieberman has written an important book, important for Jews, 'ordinary' or otherwise, and for non-Jews. ('Ordinary Jews' are those not called 'survivors'). Her careful analysis of the ongoing impact and effect of the Holocaust offers an understanding for all in a world where dilemmas and debates about migrants and refugees are ever present.

Historians, theologians and survivors dominate the recording and writing about the atrocities. Lieberman's aim is to include the quieter voices who were and remain affected.

Through interviews and broad research, Lieberman (a psychotherapist) manages, with the aid of a psychoanalytic framework to illuminate what it was about the Holocaust that was and remains so uniquely devastating. Each chapter, beginning with the words of the people she interviewed, carefully focusses on a particular theme (trauma, loss, betrayal, fear, guilt...), explores and defines it, thereby teasing apart the complex strands of this twisted and ultimately incomprehensible human tragedy.

The personal individual voice is ever present and includes Lieberman's own in the courageous endeavour of researching and writing about this painful subject. The effect is to make theory accessible and relevant, and to remind us of the subjectivity of each experience. There are hypotheses - about history and narratives, about "the Jewish condition", about how Israel is as it is today, about the continuing legacy of the Holocaust - but they are gentle and unimposing, offering neither hope nor despair but instead a way of facing and working with reality. For example, she describes the way in which Israelis, in the new state founded partly with a well-intentioned but misguided aim of compensating Jews after the war, distanced themselves from the survivor immigrants from Europe, unwilling as they were to be reminded of their own vulnerability. Through descriptions of the mixed feelings of Jews about the current conflict in the Middle East, Lieberman illustrates the impossibility and effect of that attempt to "vault over the past".

Lieberman talks about recognising the importance of the continuing process of mourning and advocates for language and for speaking. Beatrice, one of her ordinary Jewish interviewees says, "I didn't know what I had to say until you asked me". Every story counts.

You may also like