After Genocide: How Ordinary Jews Face the Holocaust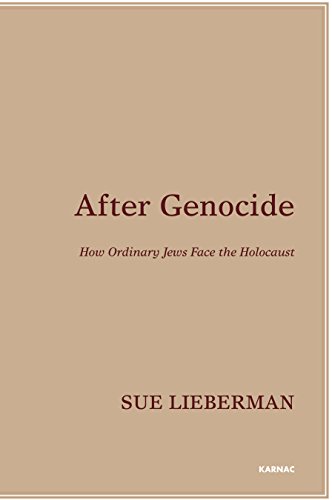 Customer Reviews
Our customers have given this title an average rating of 5 out of 5 from 1 review(s), add your own review for this title.
Joan Fogel on 27/08/2015 16:21:58





(5 out of 5)
Sue Lieberman has written an important book, important for Jews, 'ordinary' or otherwise, and for non-Jews. ('Ordinary Jews' are those not called 'survivors'). Her careful analysis of the ongoing impact and effect of the Holocaust offers an understanding for all in a world where dilemmas and debates about migrants and refugees are ever present.

Historians, theologians and survivors dominate the recording and writing about the atrocities. Lieberman's aim is to include the quieter voices who were and remain affected.

Through interviews and broad research, Lieberman (a psychotherapist) manages, with the aid of a psychoanalytic framework to illuminate what it was about the Holocaust that was and remains so uniquely devastating. Each chapter, beginning with the words of the people she interviewed, carefully focusses on a particular theme (trauma, loss, betrayal, fear, guilt...), explores and defines it, thereby teasing apart the complex strands of this twisted and ultimately incomprehensible human tragedy.

The personal individual voice is ever present and includes Lieberman's own in the courageous endeavour of researching and writing about this painful subject. The effect is to make theory accessible and relevant, and to remind us of the subjectivity of each experience. There are hypotheses - about history and narratives, about "the Jewish condition", about how Israel is as it is today, about the continuing legacy of the Holocaust - but they are gentle and unimposing, offering neither hope nor despair but instead a way of facing and working with reality. For example, she describes the way in which Israelis, in the new state founded partly with a well-intentioned but misguided aim of compensating Jews after the war, distanced themselves from the survivor immigrants from Europe, unwilling as they were to be reminded of their own vulnerability. Through descriptions of the mixed feelings of Jews about the current conflict in the Middle East, Lieberman illustrates the impossibility and effect of that attempt to "vault over the past".

Lieberman talks about recognising the importance of the continuing process of mourning and advocates for language and for speaking. Beatrice, one of her ordinary Jewish interviewees says, "I didn't know what I had to say until you asked me". Every story counts.