Advances in Online Therapy: Emergence of a New Paradigm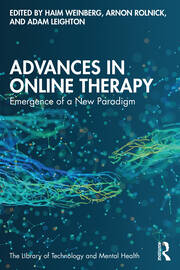 Book Details
Publisher : Routledge
Published : January 2023
Cover : Paperback
Pages : 334
Category :
Individual Psychotherapy
Catalogue No : 96929
ISBN 13 : 9781032070247
ISBN 10 : 9781032070
Also by Haim Weinberg
Advances in Online Therapy is the definitive presentation on online psychological intervention, which takes research and experiences of online therapy a step further by applying them to therapy in a post-pandemic world.
This book addresses most of the main approaches and schools of individual, couple and family psychotherapy that are prevalent in the therapeutic field nowadays and explores how each of them adjust to online therapy. The reader will explore the main challenges and obstacles unique for each approach and how leading experts of those approaches overcome these challenges. The book also offers a relatively unique collection of the most practiced therapeutic approaches. In addition, the reader will explore specific issues that anyone who meets clients online should be aware of, like who is suitable for online counseling and who should be excluded, how to overcome resistance to online meetings, how to create online therapeutic alliance, enhancing online presence, and more. This book develops further the ideas and areas explored in the authors' previous book, Theory and Practice of Online Therapy.
Advances in Online Therapy aims to help mental health professionals and graduate students responsibly explore and expand their own 'online comfort zone'.
Reviews and Endorsements
"This is by far the best resource to access the accumulated therapeutic experience of remote working which has, by now, become part of all therapists' routine practice. Every therapist, regardless of orientation, should be required carefully to study the brilliant advice from the collection of master therapists the editors assembled as these clinicians adapted their practice to online working. Packed full of immediately applicable practical wisdom, this immediate classic gives us hope that with creativity and flexibility, psychological therapists are able to modify their technique and generate remarkable improvement in their clients whatever limitations are imposed on their communication medium. Undoubtedly, the most helpful book of 2022." -Professor Peter Fonagy, OBE, FMedSci, FAcSS, FBA, PhD. Head of the Division of Psychology and Language Sciences at UCL; Chief Executive of the Anna Freud National Centre for Children and Families, London.

"This rich and comprehensive edited collection could not be more timely as we all grapple with the opportunities and challenges presented by online therapy. The editors have done an impressive job bringing together chapters on the main approaches and schools of psychotherapy inviting the contributors to reflect on how their approach has adjusted and learnt from the shift to online therapy. This is a wonderful resource and deserves to be the go-to reference book on all psychotherapy trainings." - Professor Alessandra Lemma, fellow of British Psychoanalytic Society; Visiting Professor, Psychoanalysis Unit, University College London and author of The Digital Age on the Couc

"Online therapy is no longer unusual. After the COVID years the average therapist now has now conducted psychotherapy in a video-based online form many times. The public has come to expect that they can access and benefit from expert therapists who live far from their own hometown. These are positive changes but making online therapy work requires acknowledging and addressing its challenges in a flexible, creative, and effective way. This comprehensive volume shows you how. In a careful, systematic way it addresses setting, engagement, and the alliance; adjustments in all the major forms of psychotherapy are explored across individuals, couples, and families. Regardless of your approach, setting, or population you will find something useful on almost every page. It should be obvious to all that online therapy is here to stay -- it's time to master this tool for the benefit of the lives of those we serve. Highly recommended." - Steven C. HayesM
, Ph.D. Foundation Professor of Psychology, University of Nevada, Reno. Originator of Acceptance and Commitment Therapy, and author of A Liberated Mind: How to Pivot Toward What Matters

"An amazingly comprehensive compendium of reflections on teletherapy from therapists working from a wider range of theoretical approaches. This span makes it a terrific textbook for students of psychology, social work and counseling who are learning not only teletreatment but the range of treatment approaches, and a helpful, and very timely resource for therapists who were forced into COVID-imposed teletherapy.  There's lots of useful information here on the impact of technology, the sense of intrigue that accompanies the transition from the office to the virtual space,the maintenance of empathy, the use of the whiteboard, and above all the otherness of the self that is discovered on the screen in video." - Jill Savege Scharff, MD, FABP. Co-founder of The International Psychotherapy Institute; Clinical Professor of Psychiatry, Georgetown University, Washington DC; and editor of Psychoanalysis Online Vols 1, 2, 3 and 4
About the Editor(s)
Haim Weinberg is a Californian and Israeli licensed psychologist and group analyst. He is Past-president of the Northern California Group Psychotherapy Society and the Israeli Association of Group Psychotherapy. He is the director of an international doctorate program in psychology with an emphasis on group psychotherapy at the Professional School of Psychology, Sacramento, California, where he serves as the academic Vice President.
Arnon Rolnick, PhD, is a licensed clinical psychologist with special interest in the usage of technology in psychotherapy in Tel-Aviv, Israel.
Adam Leighton is a counsellor, group facilitator, wilderness therapy facilitator, and lecturer at Ruppin Academic Center, Israel.
You may also like