Adolescent-Focused Therapy for Anorexia Nervosa: A Developmental Approach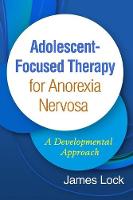 Book Details
Publisher : Guilford Press
Published : May 2020
Cover : Hardback
Category :
Eating Disorders
Catalogue No : 95108
ISBN 13 : 9781462542840
ISBN 10 : 9781462542
Also by James Lock
From pioneering family-based treatment developer James Lock, this is the first comprehensive guide to adolescent-focused therapy (AFT) for anorexia nervosa (AN), an evidence-based individual approach. AFT is an effective alternative to family-based treatment that may be a better fit for some patients. Lock explains how AN serves as a maladaptive response to developmental challenges of adolescence. He presents a manualized framework for helping adolescents find more adaptive coping strategies, manage difficult emotions, and develop greater autonomy and a stronger sense of self, while reducing risky behaviors and restoring weight. AFT emphasizes the therapist-patient alliance and involves parents in a supportive role. Rich case material and sample dialogues illustrate how to implement each phase of the approach.
AFT is recognized as a best practice for the treatment of anorexia nervosa in adolescents by the U.K. National Institute for Health and Care Excellence (NICE).
About the Author(s)
James Lock, MD, PhD, is a child psychiatrist and Professor of Child Psychiatry and Pediatrics in the Division of Child and Adolescent Psychiatry and Child Development, Department of Psychiatry and Behavioral Sciences, Stanford University. He is the director of the Eating Disorders Program in the Division of Child Psychiatry and psychiatric director of an inpatient eating disorder program for children and adolescents at Lucile Salter Packard Children's Hospital at Stanford. The author of numerous scientific publications on eating disorders in youth, Dr. Lock is a recipient of the Price Family Foundation Award for Research Excellence from the National Eating Disorder Association, an NIMH Early Career Development Award, and an NIMH Mid-Career Development Award.
You may also like