A Critical Psychology of the Postcolonial: The Mind of Apartheid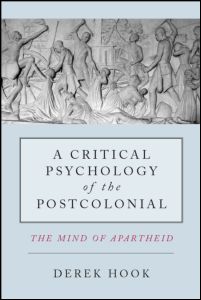 Book Details
Publisher : Routledge
Published : 2012
Cover : Paperback
Pages : 288
Category :
Culture and Psychoanalysis
Catalogue No : 32540
ISBN 13 : 9780415587570
ISBN 10 : 0415587573
Also by Derek Hook
An oft-neglected element of postcolonial thought is the explicitly psychological dimension of many of its foundational texts. This unprecedented volume explores the relation between these two disciplinary domains by treating the work of a variety of anti-colonial authors as serious psychological contributions to the theorization of racism and oppression.
This approach demonstrates the pertinence of postcolonial thought for critical social psychology and opens up novel perspectives on a variety of key topics in social psychology. These include: the psychology of embodiment and racialization; resistance strategies to oppression; 'extra-discursive' facets of racism; the unconscious dimension of stereotypes; the intersection of psychological and symbolic modalities of power.
In addition, the book makes a distinctive contribution to the field of postcolonial studies by virtue of its eclectic combination of authors drawn from anti-apartheid, psychoanalytic and critical social theory traditions - Homi Bhabha, Steve Biko, J.M. Coetzee, Frantz Fanon, Julia Kristeva, Chabani Manganyi and Slavoj Zizek. The South African focus serves to emphasize the ongoing historical importance of the anti-apartheid struggle for today's globalized world.
A Critical Psychology of the Postcolonial is an invaluable text for social psychology and sociology students enrolled in courses on racism or cultural studies. It will also appeal to postgraduates, academics and anyone interested in psychoanalysis in relation to societal and political issues.
About the Author(s)
Derek Hook is an Associate Professor of Psychology and a clinical supervisor at Duquesne University, Pittsburgh, USA, and a Extraordinary Professor of Psychology at the University of Pretoria, South Africa.
You may also like