Elizabeth Kjellstrand Hartwig
Elizabeth Kjellstrand Hartwig, PhD, LPC-S, LMFT, RPT-S, is an associate professor at Texas State University. She is the founder and director of the Texas State University Animal- Assisted Counseling Academy and a past president of the Texas Association for Play Therapy.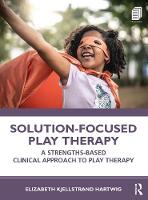 Solution-Focused Play Therapy is an essential text that blends the process of play therapy with solution-focused therapy.
With a focus on child strengths and resources, this book identifies key... (more)