Solution-Focused Play Therapy: A Strengths-Based Clinical Approach to Play Therapy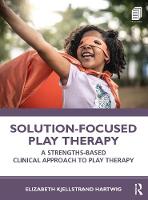 Book Details
Publisher : Routledge
Published : November 2020
Cover : Paperback
Pages : 242
Category :
Expressive Arts Therapies
Category 2 :
Counselling
Catalogue No : 95379
ISBN 13 : 9780367374440
ISBN 10 : 9780367374
Solution-Focused Play Therapy is an essential text that blends the process of play therapy with solution-focused therapy.
With a focus on child strengths and resources, this book identifies key concepts and principles in solution-focused play therapy (SFPT). The author provides neurobiological and developmental support for SFPT and guidance on how practitioners can transition from using a non-directive approach to a more directive and activity-based approach based on the developmental needs of the child. Chapters describe the 12 basic skills needed for employing this approach with children of all ages and their families. Harnessing a strengths-oriented approach, the author presents expressive ways to use key SFPT techniques, including the miracle question, scaling, finding exceptions, and end-of-session feedback.
Clinicians will come away from the book with a suite of interventions, strategies, handouts, and forms that can be employed with children of all ages and their families, from strength-based assessment and treatment planning to the final celebration session.
Reviews and Endorsements
"The field of play therapy will have made a giant leap thanks to Elizabeth Kjellstrand Hartwig! By contextualizing the basic components of play therapy in solution-focused theory and adapting the therapeutic process to it, she has developed innovative ways to help families and children build on existing strengths to regulate emotions and build self-esteem. This book is meticulously researched, well organized, and clearly written. It is a valuable resource for beginning play therapists, experienced therapists who want to broaden their perspective and skills, and educators." - Eve Lipchik, LMFT, LCSW, author of Beyond Technique in Solution Focused Therapy: Working with Emotions and the Therapeutic Relationship.

"Elizabeth Kjellstrand Hartwig artfully explains the application of solution-focused therapy to play therapy. Her writing style is easy to read and very relational. Her content is profound, thoughtful, and detailed. New and experienced play therapists will find this book extremely helpful in developing a comprehensive application to their work. Case examples amplify her presentation of concepts, skills and interventions. Forms and directions for interventions are an additional plus. This groundbreaking book will become the go-to for solution-focused play therapists." - Linda E. Homeyer, PhD, LPC-S, RPT-S, professor emerita at Texas State University and director emerita of the Association for Play Therapy, USA.

"Elizabeth Kjellstrand Hartwig has written a well-organized and engaging book that documents the process of integrating solution-focused therapy principles into a traditional play therapy practice, providing readers with a thoughtful and practical template on how to do so in their own therapeutic work. Major historical play-therapy models, therapeutic powers of play research, interpersonal neurobiology insights, and the therapeutic mechanisms of solution-focused therapy are thoughtfully explained and clearly illustrated with clinical examples and an appendix of forms and resources." - John W. Seymour, PhD, LMFT, professor emeritus and distinguished faculty scholar, Minnesota State University, Mankato, USA.

"Elizabeth Kjellstrand Hartwig delivers an authoritative account of solution-focused play therapy from its origins to its practical applications. She renders complex theoretical material accessible so therapists can implement these ideas in their very next session with clients and families. She covers building a solution-focused process and the impact of child development on play therapy, gives playroom and materials suggestions, and illuminates 12 solution-focused skills that help clinicians recognize and highlight clients' resources to build their resiliency. Dr. Hartwig walks readers step-by-step through the solution-focused play therapy process from first consultations to session documentation in this user-friendly volume." - Sarah D. Stauffer, PhD, LPC, NCC, NCSC, RPT-S, Psychologue-Psychotherapeute FSP and Art-therapeute APSAT (Switzerland), play therapy director at Association ESPAS, systemic family therapist, author, international presenter, and clinical editor of Play Therapy Magazine.
About the Author(s)
Elizabeth Kjellstrand Hartwig, PhD, LPC-S, LMFT, RPT-S, is an associate professor at Texas State University. She is the founder and director of the Texas State University Animal- Assisted Counseling Academy and a past president of the Texas Association for Play Therapy.
You may also like