Breathing as a Tool for Self-Regulation and Self-Reflection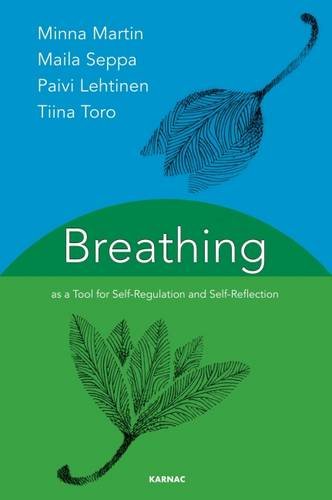 About the Author(s)
Minna Martin is a psychologist and psychotherapist with advanced level special training in cognitive-analytic therapy (CAT) and training in psychophysical psychotherapy. In 2015 she was named Psychologist of the Year in Finland. Her first professions were physiotherapist and physical education instructor. Along with her work as a psychologist in student health care, Minna works as a psychotherapist and trainer. She provides training for professionals in the use of the psychophysical breathing therapy method and leading of social anxiety groups. In addition, she has given lectures on these topics at international congresses. She has developed both individual therapeutic approaches and various types of group work based on psychophysical breathing therapy. Minna has written articles for professional journals and books, as well as guide books for patients with various problems.
Maila Seppä originally trained as a movement therapist. She is one of the main forces behind the spread and establishment of psychophysical psychotherapy in Finland. Working with her patients she noticed the close connection between the regulation of breathing and feelings. She developed a short-term therapy method to teach first-aid techniques for controlling anxiety and to use breathing as a route to the mind. More than 700 university hospital patients have attended breathing school run by Maila Seppä. But Maila's work has not been restricted to patients alone. Personnel groups from numerous fields have seen Maila to learn to cope with their work and to get to know themselves, their patients or their students better. Today, more than 300 people from various groups of health care professionals around Finland have participated in the training for breathing school instructors that was developed based on Maila's work.
Päivi Lehtinen is a special psychologist, Licentiate in Psychology, psychodynamic psychotherapist and family therapist, who has also studied physiology. She has worked for thirty years as a psychologist in a general psychiatric outpatient clinic at a university central hospital, and her cooperation with Maila Seppä dates back many years. Päivi has developed a treatment method for people suffering from symptoms of imbalanced breathing, with the breathing school method (a psychophysical breathing therapeutic short-term therapy group) as a central element. Another main area of her work is cooperation with patient groups from the department of gynaecology, such as women fearing delivery.
Tiina Törö is a graphic designer and relaxation therapist, with a Bachelor's degree in graphic design. She has experience of working with people recovering from mental health problems. In addition, she has acted as the executive manager of a patient association, as a leisuretime instructor for the elderly and as a leader in Hengittävä hiljaisuus (breathing silence) retreats. She is a trained breathing school instructor. As a person prone to developing breathing symptoms herself, Tiina Törö represents the book's largest target group in the working group.
Hilkka Salmén is a qualified translator with a diploma in translation (DKK) from the Turku Language Institute and a bachelor's degree from the University of Turku. She founded her translation agency, Kääntöliike, in the year 2000. Before that, she worked as a translator in a translation agency specialising in medicine and in a large multinational pharmaceutical company. She has held courses in medical translation at Turku University. As an amateur singer, she has a personal interest in the book's topic.