You Will Meet a Tall, Dark Stranger: Executive Coaching Challenges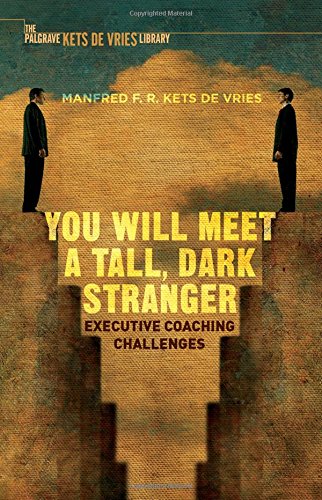 Book Details
Publisher : Palgrave Macmillan
Published : 2015
Cover : Hardback
Pages : 128
Category :
Coaching
Category 2 :
Organisational Psychology
Catalogue No : 38167
ISBN 13 : 9781137562661
ISBN 10 : 1137562668
Also by Manfred F.R. Kets de Vries
You don't have to be mad to work here - but it helps! Sometimes that's more than just a tedious joke. As anyone who has worked as an executive coach knows, sometimes people who hold very senior and responsible positions are more than just difficult and erratic - sometimes they're downright toxic. Toxic behavior has a contaminating effect that ripples through an organization, incurring many hidden, unforeseeable costs in the process. Working with these individuals can be seriously emotionally and physically draining.
Manfred Kets de Vries, one of the world's leading authorities on the psychology of leadership, and a pioneering practitioner in the field of clinical and psychodynamic executive coaching, has written a trilogy of short books on crises in leadership written for executives and those who work with them. In You Will Meet a Tall Dark Stranger, Kets de Vries shows how to avoid the traps set by difficult clients, how to harness your own emotions when dealing with difficult people and conflict, and how to avoid becoming an inadvertent participant in a 'duel' with your client.
This book is all about helping coaches to become more effective. Each chapter presents a profile of a particular type of toxic executive - the narcissist, psychopath, cold fish, obsessive-compulsive, and many more-and offers coaches examples of interventions that have worked - and those that haven't. Kets de Vries offers expert advice from the front-line of working with puzzling executives.
About the Author(s)
Manfred Kets De Vries is a clinical professor of leadership development and a consultant on organizational design/transformation and strategic human resource management to leading worldwide companies. He holds the Raoul de Vitry d'Avaucourt Chair of Leadership Development at Instead, Fontainebleau, France. He has also held professorships at McGill University, the École des Hautes Études Commerciales, Montreal, and the Harvard Business School, and he has lectured at management institutions around the world. He is the author, co-author, or editor of over 20 books. The Financial Times, Le Capital, Wirtschaftswoche, and The Economist have judged Manfred Kets de Vries one of Europe's leading management thinkers.
You may also like