Working with Parents of Anxious Children: Therapeutic Strategies for Encouraging Communication, Coping and Change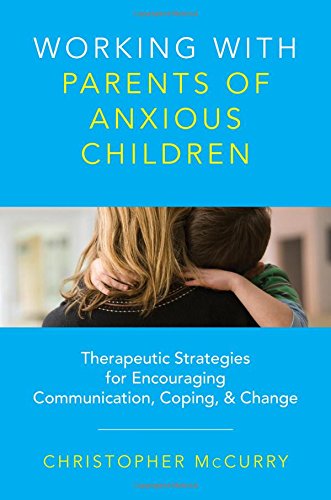 The topic of anxious children is on the front burner these days, both among parents and mental health professionals, and its only gaining attention as more and more clinicians are presented with anxious kids in their practices. Anxiety symptoms-whether panic, OCD, phobias, social or separation anxiety-are one of the primary reasons parents seek help from a mental health professional for their child.
And yet, parents may unintentionally reward or encourage the problem through their own behavior (overprotection on the one hand, punishment on the other, or avoidance of all possible anxiety-provoking situations). This book will tackle that very issue, exploring the critical parent-child dance at the center of child development and uncovering how, with the proper knowledge and tools at hand, therapists can guide parents in changing their dynamic so anxious outbursts are reduced and a child's confidence and growth are better supported.
A range of techniques that therapists can teach parents will be presented, including how to change the choreography-the parent-child dynamic-and how to work with goodness of fit, or temperamental differences between a parent and a child. Parent management training and parent-child interaction training strategies will also be provided.
Reviews and Endorsements
"What loving parent would not want to end the suffering of their child? Yet anxiety will run roughshod over families, taking advantage of responses that, on the surface, seem so caring. By the time they arrive in treatment, parents feel helpless and exhausted, while the worried child has become dependent on reassurance and overprotection. McCurry expertly elucidates for readers the tactics of therapeutic change that will stabilize the family system, empower the parents, and foster resilience in the child."
- Reid Wilson, PhD, co-author Anxious Kids, Anxious Parents: Seven Ways to Stop the Worry Cycle and Raise Courageous and Independent Children

"Work with parents of anxious children is becoming richer and more nuanced as practitioners used to doing parent training, communication skills work, and traditional cognitive behavior therapy begin to use acceptance and mindfulness-based therapies as well. This wise and well-written volume will help provide that sense of nuance and balance. It is not a treatment protocol, nor is it dedicated to any one approach; it is a guidebook, helping you to use your existing skills in more sophisticated ways and to learn new skills and approaches without having to abandon what you already know. Highly recommended."
- Steven C. Hayes, PhD, Co-developer of Acceptance and Commitment Therapy and author of Get Out of Your Mind and Into Your Life

"This book is an incredibly valuable resource for every clinician working with anxious children and their parents. McCurry expertly integrates evocative clinical vignettes with a sophisticated, yet easily understood, biopsychosocial model. He explains the negative parent-child interactions so common in the families of anxious youth and provides an elegant and effective therapeutic approach for enhancing family communication and resolving conflict. Drawing from the cognitive-behavioral, functional analytic, acceptance, and mindfulness literatures, this book provides clear guidance and an abundance of clinical "pearls" for teaching parents how to create a healthy and resilient home environment."
- John Piacentini, PhD, ABPP, President, Society for Clinical Child and Adolescent Psychology, Director, Child OCD, Anxiety, and Tic Disorders Program, UCLA Semel Institute
About the Author(s)
Christopher McCurry, PhD, is a licensed child psychologist with a private practice in Seattle, and clinical assistant professor of psychology at the University of Washington. He specializes in treating child anxiety disorders, with an emphasis on parent-child interactions.
You may also like