Working with Families of African Caribbean Origin: Understanding Issues Around Immigration and Attachment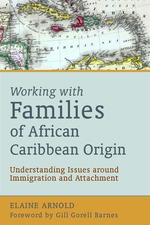 Many of those who emigrated from the Caribbean to the UK after World War II left behind partners and children, causing the break-up of families who were often not reunited for several years.
In this book, Elaine Arnold examines the psychological impact that immigration had on these families, in particular with relation to attachment issues. She demonstrates that the disruption caused by separation from both family and country often had long-term traumatic consequences. The book draws on two studies carried out by the author in 1975 and 2001. In the first, she interviewed mothers who had emigrated without their children, and in the second, children (now adults) who had been left behind and were later reunited with their parents.
This insightful book will assist all those working with people of African Caribbean origin in the UK to better understand their experiences and the impact that separation and loss has had on their lives. It is essential reading for social workers, counsellors, therapists and any other professionals working with families of African Caribbean origin.
You may also like