Working in the Dark: Understanding the Pre-Suicide State of Mind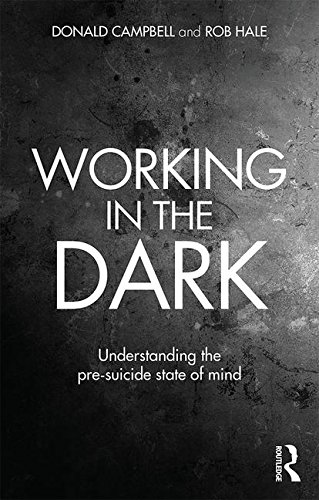 Book Details
Publisher : Routledge
Published : 2017
Cover : Paperback
Pages : 152
Category :
Psychoanalysis
Catalogue No : 39994
ISBN 13 : 9780415645430
ISBN 10 : 0415645433
Also by Donald Campbell
Working in the Dark focuses on the authors' understanding of an individual's pre-suicide state of mind, based on their work with many suicidal individuals, with special attention to those who attempted suicide while in treatment. The book explores how to listen to a suicidal individual's history, the nature of their primary relationships, and their conscious and unconscious communications. Campbell and Hale address the searing emotional impact on relatives, friends and those involved with a person who tries to kill themselves, by offering advice on the management of a suicide attempt and how to follow-up in the aftermath.
Establishing key concepts such as suicide fantasy and pre-suicidal states in adolescents, the book illustrates the pre-suicide state of mind through clinical vignettes, case studies, reflections from those in recovery and discussions with professionals. Working in the Dark will be of interest to social workers, probation officers, nurses, psychologists, counsellors, psychotherapists, psychoanalysts and doctors who work with those who have attempted suicide, or are about to do so.
About the Author(s)
Donald Campbell is a qualified child, adolescent and adult psychoanalyst and a Training Analyst and Supervisor at the British Psychoanalytical Society. He has worked for thirty years as Principal Child and Adult Psychotherapist at the Portman Clinic. Campbell has lectured, taught widely and published papers and chapters on the subjects of suicide, violence, child sexual abuse, adolescence, shame and horror films
More titles by Donald Campbell
Rob Hale trained originally in psychiatry and psychoanalysis and held a research post at St Mary's Hospital in London where, for five years, he worked closely with people who had attempted suicide. Hale has treated suicidal patients in long-term psychotherapy, and for thirty-five years worked at the Portman Clinic with those who act out in a violent or sexually deviant way.
You may also like