The Claustro-Agoraphobic Dilemma in Psychoanalysis: Fear of Madness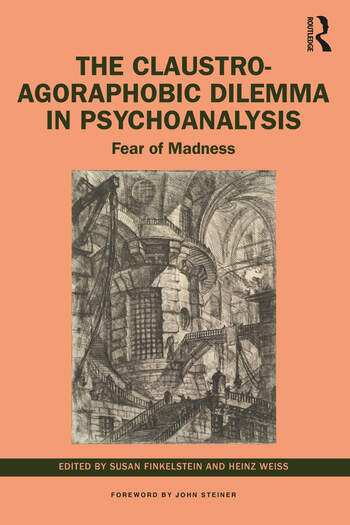 Book Details
Publisher : Routledge
Published : November 2022
Cover : Paperback
Pages : 186
Category :
Psychoanalysis
Catalogue No : 96904
ISBN 13 : 9781032060149
ISBN 10 : 103206014X
Also by Heinz Weiss
This collection addresses the theory of claustro-agoraphobic anxieties and schizoid phenomena. It provides psychoanalytic case studies of the transference and counter-transference dynamic inherent in these agonizing disorders.
In The Claustro-Agoraphobic Dilemma in Psychoanalysis: Fear of Madness, Susan Finkelstein and Heinz Weiss gather both classic papers and new essays, presenting a timely assessment of claustro-agoraphobia as first developed by Henri Rey. This volume includes papers by Helene Deutsch, Bertram Lewin, Edoardo Weiss, Esther Bick, Donald Meltzer, Albert Mason, John Steiner, and Claudia Frank, as well as a chapter by Kristin White on working remotely with psychoanalytic patients during the Covid-19 pandemic. Applying a Freudian, Kleinian, and Bionian methodology, this collection argues for a long-term approach to psychoanalytic treatment in order to help claustro-agoraphobic patients work through the unconscious conflicts that interfere with their capacity to engage in a committed relationship.
This book is essential reading for psychoanalysts in practice and training and will appeal to academics and historians interested in the universality of spiritual and mythic motifs.
Reviews and Endorsements
'This book was in a sense waiting to be produced. I say this because the phenomenon of claustro-agoraphobia is a core dimension of the human condition and, though not always recognized as such, enters the consulting room with every patient. It is a concept we use every day without necessarily naming it or understanding its theoretical and historical significance. In Group Psychology and the Analysis of the Ego, Freud quoted Schopenhauer on the "hedgehogs' dilemma". In my paraphrasing, hedgehogs huddle together in winter to get warm, but when they get too close, they prick each other and move apart. But then they feel cold and huddle together again. And so, they spend the whole winter moving together and apart, trying to find a place where they can be near enough to get warm but not so near that they get hurt – the poetic evocation of a universal human dilemma.

All forms of psychopathology, then, have a claustro-agoraphobic dimension. Patients feel trapped with their symptoms and the objects that persecute them – their marriages, their jobs, their relationships, but more than anything with the contents of their own minds.

The editors have provided us with a superb selection of papers ranging from Helene Deutsch's 1929 essay to works that are part of our contemporary psychoanalytic world (Rey, Meltzer, Steiner) and that deepen and broaden our understanding of this concept both in terms of its clinical phenomenology and its theoretical underpinnings. The editors' Introduction provides a rich cultural perspective and mapping out of the concepts. The editors also provide historical links to ancient philosophy and the world of literature.

This is a book that all clinicians – psychologists, psychiatrists, and psychoanalysts – will find fascinating and enriching. The Claustro-Agoraphobic Dilemma in Psychoanalysis: Fear of Madness will find its place as a key text. A must for all libraries.' - David Bell, BSc, MB, MRCP, FRCPsych, Psychoanalyst; Former President of the British Psychoanalytical Society; Former Consultant Psychiatrist at Tavistock Clinic, UK.

'Susan Finkelstein and Heinz Weiss have thoughtfully compiled many of the most significant theoretical and clinical papers on the fascinating and important topic of the claustro-agoraphobic dilemma. The collection of papers, from Lewin's to Steiner's on Psychic Retreat, from Henri Rey's to Meltzer's ideas on the Claustrum, covers both historical contributions and theoretical differences. Readers are also treated to original chapters by the editors and contributors that place the more historical papers within a modern context. The introduction to the book and the prefaces provide clear, erudite, and concise statements of the central ideas for each chapter. This is an excellent and invaluable addition to any psychotherapist's or psychoanalyst's library.' - Abbot A. Bronstein, PhD, Editor of The Analyst at Work and the International Journal of Psychology; Psychoanalyst; Chair of the North American Comparative Clinical Methods Working Party Group; Former IPA Board Member and TA/SA at the San Francisco Center of Psychoanalysis, USA.

'Claustro-agoraphobia constitutes the natural dilemma of those who have not developed a true personality. These people are always afraid of being trapped and dominated in the interpersonal relationship that they escape to find themselves in the anguish of emptiness. This book reports the most useful psychoanalytic contributions on the subject and opens new perspectives to this still unsolved aspect of the psyche. A commendable and useful contribution to bring psychoanalysis back to clinical research.' - Franco de Masi, Training and Supervising Analyst of the Italian Psychoanalytical Society; Former President of Centro Milanese di Psicoanalisi and Secretary of the Training Milanese Institute, Italy.

'This book not only offers many interesting reflections on the psychoanalytic concept of claustro-agoraphobia but, in fact, establishes its meaning and value. It shows how a range of different clinical phenomena and dynamics discussed in the analytic literature, past and present, share dimensions which allow them to be more deeply understood when brought together under the notion of claustro-agoraphobia.' - Rachel Blass, Training Analyst at the Israel Psychoanalytic Society and Member of the British Psychoanalytical Society, UK.
About the Editor(s)
Susan Finkelstein is Faculty Member and Training and Supervising Analyst at the Contemporary Freudian Society and the Institute for Psychoanalytic Training and Research. She is Director of Understanding Primitive Mental States and an associate board member of the International Journal of Psychoanalysis. She practices psychoanalysis, supervision, and couples therapy in New York City.
Heinz Weiss, MD, is Head of the Department of Psychosomatic Medicine at the Robert-Bosch-Clinic, Stuttgart, Germany, Head of the Medical Department, and Member of the Directorate of the Sigmund Freud-Institute, Frankfurt, Germany. He teaches at the University of Tübingen and chairs the Education Section of the International Journal of Psychoanalysis.
You may also like