Women, Intersectionality, and Power in Group Psychotherapy Leadership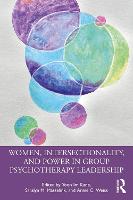 This ground-breaking book presents multifaceted perspectives to examine assumptions about gender, intersecting identities, and power that impact women's experience as group psychotherapy leaders, mentors, and educators.
Leaders in the field discuss the theories, training, personal experience, mentorship, and clinical work that empower women group psychotherapists beyond the limits of traditional technique and practice. Chapters boldly investigate theoretical, cultural, and personal paradigms, and explore themes of intersectionality, gender-role identity, and hidden bias. The authors challenge embedded societal norms to encourage deeper gender and cultural intelligence in group psychotherapy leadership.
This text provides guidance and clinical wisdom that will inspire, scaffold, and embolden contemporary group psychotherapy leadership.
Reviews and Endorsements
"This work is groundbreaking, a conversation-starter and very courageous. Congratulations to the editors and contributors for their courage, sensitivity, and scholarship to give voice to topics within our field that are often unaddressed. Readers will find this impressive work filled with scholarly, pioneering, and practical insights that change the conversation about intersectionality, power, and leadership in group therapy, and set the standard for how we practice. Amazing work." - Willard Ashley, Sr. MDiv, DMin, SCP, NCPsyA, CGP, psychoanalyst, professor, pastor, and Antiracist Organizer-Trainer; author, New Rules for Radicals and Learning to Lead: Lessons in Leadership for People of Faith

"This book feels like an intimate conversation with each of its contributors. I am enthralled with the depth, multiplicity, and nuance of the dialogue. The necessary focus on identity, leadership, and other dynamics by women group psychotherapists was woefully long overdue so this manuscript is right on time." - Aziza A. Belcher Platt, PhD

"Kane, Masselink, and Weiss have provided us with a unique and vital new book. The book focuses on the place of women in group therapy, the path they have had to take to gain positions of authority, and the uniqueness they bring to the field. The authors include an A-list of female group therapists, and the topics range from personal to political to theoretical. This book, with its far-reaching chapters, will be enriching for Group therapists of any gender." - J. Scott , PhD, senior author, Psychodynamic Group Psychotherapy; past president, AGPA and NSGP; co-founder, The Center for Group Psychotherapy at Massachusetts Hospital; co-founder, Boston Institute for Psychotherapy.

"This book is an important and very current contribution to the understanding of female group leadership and female identity in general. The wide range of topics reflects the many aspects and intersectionality of female identity. The authors' introduction is outstanding for its reporting of how three accomplished women worked out their power and competition and sets the stage for a treasure trove of thought-provoking chapters." - Eleanor F. Counselman, EdD, CGP, DLFAGPA, distinguished fellow and immediate past president, AGPA.

"Wow! A powerful compilation of voices from some of the strongest leaders in group psychotherapy. Integrating knowledge with experience, these women describe how effective, strong leadership can be driven by humility, vulnerability and collaboration. This book leaves me feeling liberated, validated and motivated to continue accessing and elevating my voice, not only as a BIPOC group psychotherapist, but as a self-assured Japanese American woman."- Karen Cone-Uemura, PhD, CGP

"It's thrilling that this innovative volume has arrived at this moment in time. By integrating the unique perspectives of women with other typically marginalized identities, this volume provides a major expansion of our understanding of effective group leadership. The authors both sharpen and broaden group therapy theory and technique, using a rich array of case examples, personal experiences, and theory, tied to a growing literature." - Aaron Black, PhD, CGP, FAGPA, faculty, Center for Group Studies

"A truly ground-breaking book that provides deeply honest, personal accounts of the of the unique challenges and triumphs that female group therapists encounter in their professional journeys as they negotiate and affirm their complex personal and social identities. These courageous stories of resilience and self-empowerment raise political and social consciousness and contribute richly to fields of intersectionality, feminism and group leadership development." - Sophia Aguirre, PhD, CGP, FAGPA, owner, Aguirre Center for Inclusive Psychotherapy.


About the Author(s)
Yoon Im Kane, LCSW, CGP, is a Yale University trained psychotherapist, author, and founder of two companies based in NYC and Hawaii. She presents on Mindfulness and Group Leadership at professional conferences.
Saralyn M. Masselink, LCSW, CGP, is in private practice in Los Angeles, CA and teaches locally and nationally about the transformative power of group therapy. She graduated from Smith College School for Social Work.
Annie C. Weiss, LICSW, CGP, FAGPA, leads local, national, and international trainings. She has a private practice in Newton, MA, teaches group dynamics to Harvard medical students, and holds degrees from Yale University and Smith College.
You may also like