Women and Psychoanalysis: The Collected Papers of Lucy Holmes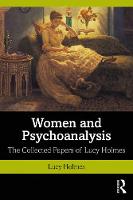 Book Details
Publisher : Routledge
Published : November 2020
Cover : Paperback
Pages : 224
Category :
Psychoanalysis
Catalogue No : 95363
ISBN 13 : 9780367560874
ISBN 10 : 9780367560
This remarkable collection charts the professional growth of one psychoanalyst from student to seasoned clinician to provide a guidebook for how psychoanalytic theory is conceptualized, created and tested in the analytic session. Specifically, the book traces the development of thinking on the place of women in psychoanalysis and how psychoanalysis has changed how it views and treats women.
Using the techniques of qualitative psychoanalytic research, Lucy Holmes presents new theories of female development grounded in drive theory and expands and enriches Freud's phallocentric ideas about women. Validated by over 30 years of clinical experience with female patients, her work demonstrates how these theories affect women in analysis, in group and in their personal lives. Later papers focus on the process of psychoanalysis itself, using the laboratory of the analytic session to study how talking changes the neurological structure of the brain; to reflect on the concept of "cure" in psychoanalysis; and finally to tackle the tenacity of the repetition compulsion.
Exploring topics across women's lives, such as childbirth, anger, identity, death, humour, leadership and madness, this unique collection of papers is ideal for practicing clinicians and theorists of psychoanalysis.
Reviews and Endorsements
"This collection of chapters, written over a period of twenty years, provides a vivid depiction of the psychoanalytic experience as a laboratory, where all sorts of questions about human development, the therapeutic value of talking, and the nature of cure can be answered by the analyst who really listens." - Vicki Semel, Executive Director, Academy of Clinical and Applied Psychoanalysis.

"Lucy Holmes' papers on women pick up where Freud left off on femininity, throwing light on the 'dark continent' of the female mind." - Lucie D. Grosvenor, LCSW, Executive Director Emerita, Psychoanalytic Psychotherapy Study Center.
About the Author(s)
Lucy Holmes is a licensed psychoanalyst in private practice in New York City, where she is a faculty member and training analyst at the Center for Modern Psychoanalytic Studies, the New York Graduate School of Psychoanalysis and The Center for Group Studies. A former president of the Society for Modern Psychoanalysts, she lectures widely on female development and the technique of modern group analysis. Her previous book Wrestling with Destiny was published in 2013.
You may also like