Psychoanalytic Theories of Affect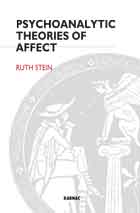 Book Details
Publisher : Routledge
Published : 1999
Cover : Paperback
Pages : 236
Category :
Psychoanalysis
Catalogue No : 8333
ISBN 13 : 9781855752313
ISBN 10 : 185575231X
Also by Ruth Stein
An attempt to collate and clarify psychoanalytic theories on affect, and how they relate to the clinical process. Stein outlines and analyses the most important theories on affect, and examines empirical work presented over the past 100 years, exposing the rigidity of some existing notions.
Reviews and Endorsements
'The role of affect is becoming increasingly important in psychoanalytic theory. Freud's theories of affect, in which affects were seen as derivatives of the instinctual drives, have proved to be inadequate, yet the different theories on the role and nature of affect put forward by psychoanalysis have proved equally unsatisfactory so far.

'In my opinion, this book is by far the best review of the psychoanalytic theories of affect so far available. It includes a consideration of the work of British and French analysts, normally neglected by the significant writers in this area in the United States. It takes into account the work of such non analytic writers as Tomkins, Larus, and Mandler, and teases out he implicit theory of affect embedded in the writings of Melanie Klein and her followers. This review has enabled Dr. Stein to put forward a number of formulations in regard to the requirements for developing a suitable and appropriate psychoanalytic theory of affect. In doing this work, Dr. Stein has drawn on relevant work in adjacent areas of psychology.

'The range and depth of the discussion of the problem involved in the psychoanalytic theory of affect, the eminently readable style, and the fresh critical thought manifested in this study make it a recommended book for psychoanalysts, for psychotherapists, psychologists, and indeed for all those interested in the theory of ideas.'
- Joseph Sandler, from his Foreword
About the Author(s)
Ruth Stein (1947 - 2010) was an Austrian-Israeli psychoanalyst. Alongside maintaining a private practice, she was an Associate Professor at the Postdoctoral Program in Psychotherapy and Psychoanalysis at New York University, a member of the IARPP Advisory Council and latterly of their Editorial Board. She edited the US International Journal of Psychoanalysis and served as Associate Editor of Psychoanalytic Dialogues. She published a great number of influential papers and books including the acclaimed For the Love of a Father: A Psychoanalytic Study of Religious Terrorism (2010).
You may also like