What Works with Children, Adolescents and Adults? A Review of Research on the Effectiveness of Psychotherapy

Also by Alan Carr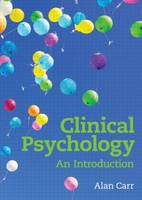 Provides an up-to-date review of research on the effectiveness of psychotherapy and psychological interventions with children, adolescents, adults, people in later life, and people with intellectual and pervasive developmental disabilities. Drawing on recent meta-analyses, systematic reviews, and key research studies in psychotherapy, this volume presents evidence for: the overall effectiveness and cost-effectiveness of psychotherapy; the contribution of common factors to the outcome of successful psychotherapy; the effectiveness of specific psychotherapy protocols for particular problems. This comprehensive, user-friendly guide will inform clinical practice, service development and policy. It will be invaluable to psychotherapists, service managers, policymakers, and researchers.
Reviews and Endorsements
What Works with Children, Adolescents, and Adults? offers a review of the evidence base for three handbooks published by Routledge: "The Handbook of Child and Adolescent Clinical Psychology" (Carr, 2006 - catalogue number 23085), "The Handbook of Adult Clinical Psychology" (Carr & McNulty, 2006 - catalogue number 89617), and "The Handbook of Intellectual Disability and Clinical Psychology Practice" (O'Reilly, Carr, Walsh, & McEvoy, 2007 - catalogue number 25058).
About the Author(s)
Professor Alan Carr is the director of the Doctoral training programme in clinical psychology at University College Dublin and Consultant Couple and Family Therapist at the Clanwilliam Institute in Dublin. He has published over 20 books and 200 academic papers and conference presentations in the fields of family therapy and clinical psychology. He has extensive experience in family therapy and clinical psychology, having worked in the field in the UK, Ireland, and Canada.
You may also like