What Therapists Say and Why They Say It: Effective Therapeutic Responses and Techniques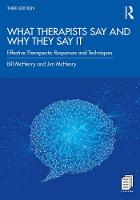 Also by Bill McHenry
What Therapists Say and Why They Say It, Third Edition, is one of the most practical and flexible textbooks available to counseling students. The new edition includes more than one hundred techniques and more than a thousand specific therapeutic responses that elucidate not just why but also how to practice good therapy.
Transcripts show students how to integrate and develop content during sessions, and practice exercises help learners develop, discuss, combine, and customize various approaches to working with clients. Specific additions have been added to address the use of technology in therapy, as well as basic core competencies expected for all therapists. "Stop and Reflect" sections have been introduced to chapters, along with guidance on the level of skill associated with each individual technique.
Designed specifically for use as a main textbook, What Therapists Say and Why They Say It is also arranged to help students make clear connections between the skills they learn in pre-practicum, practicum, and internship with other courses in the curriculum-especially the eight core Council for Accreditation of Counseling and Related Educational Programs (CACREP) areas.
About the Author(s)
Bill McHenry,, PhD, NCC, LPC-S, is a chair and associate professor of counselor education at St. Edward's University. He has served as a counselor educator for 18 years.
Jim McHenry, EdD, was a professor at Edinboro University of Pennsylvania for 32 years and is now a semi-retired professor emeritus.
You may also like