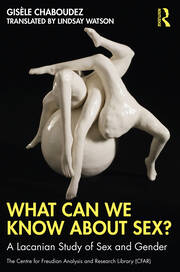 Book Details
Publisher : Routledge
Published : October 2022
Cover : Paperback
Pages : 140
Category :
Lacanian Psychoanalysis
Catalogue No : 96850
ISBN 13 : 9781032259901
ISBN 10 : 9781032259
Despite the progress made by psychoanalysis since Freud's discovery of the sexual nature of the unconscious, analysts have tended to explore psychical causality independently of the role of the biological factors at play in sexuality.
What Can We Know About Sex? explains how Lacan's work allows us to make new links between the sexual laws of discourse, gender and what Freud called the 'biological rock' in human life, allowing a new perspective not only on the history of the sexual couple but on contemporary developments of sexuality in the 21st century. Gisèle Chaboudez's insights demonstrate that the old phallic logic that has been so dominant is now in the process of being dismantled, opening up the question of how people can relate sexually and what forms of jouissance are at stake for contemporary subjectivity.
What Can We Know About Sex? will be a key text for analysts, academics and students of feminism, gender and sexuality.
Reviews and Endorsements
"A fundamental step forward in the evolution of Gisèle Chaboudez's reflection on sex and gender, What Can We Know About Sex? is an impeccable and thorough analysis of one of the most hotly debated issues today. It corrects many misunderstandings, and is precise, explicative and novel. Chaboudez provides a rigorous reading of Lacan's work, following his articulations step by step, and demonstrating how, for psychoanalysis, there cannot be any sexual norm. Her reflection on Lacan's notion of the feminine enhances the radically new perspective and the subversion inherent in an idea that is not yet fully appreciated in its individual and social consequences." - Dr Paola Mieli, President, Après-Coup Psychoanalytic Association, New York.
About the Author(s)
Gisèle Chaboudez, a medical doctor and psychiatrist, trained with Jacques Lacan until 1981, and is now a psychoanalyst in private practice in Paris. Author of several acclaimed books, she is Vice President of the Espace Analytique group and editor of the journal Figures de la Psychanalyse.
You may also like