Lacanian Fantasy: The Image, Language and Uncertainty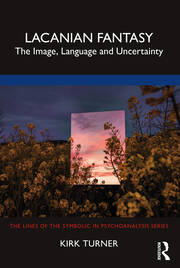 Book Details
Publisher : Routledge
Published : August 2022
Cover : Paperback
Pages : 228
Category :
Lacanian Psychoanalysis
Catalogue No : 96705
ISBN 13 : 9781032105932
ISBN 10 : 9781032105
Lacanian Fantasy addresses the question of how fantasy developed as a psychological concept, particularly as influenced by Sigmund Freud and Jacques Lacan.
Kirk Turner moves thematically, from childhood to adulthood, and chronologically, from Freud's earliest theories to Lacan's most complex statements on fantasy towards the end of his career. He explores not only the variations that the concept has undergone throughout its history – from Ancient Greek discourse around phantasia to the present day – but also the changing consequences of its applications. Lacanian Fantasy includes further insights on our current predicament: the age of the social media image and fantasy in the uncertain 'locked down' world of a pandemic. Spanning numerous examples, both historical and recent, this book explores relatable forms of fantasy life. In bridging psychology and philosophy, as well as gender and sexuality studies, it ultimately opens new perspectives on fantasy.
This book will be of interest to psychoanalytic practitioners and humanities scholars, as well as students interested in critical theory.
Reviews and Endorsements
"Kirk Turner's Lacanian Fantasy is the definitive work on the psychoanalytic conception of fantasy. It not only carves out new territory in the understanding of fantasy, but it serves as a replacement for all the classic works. The publication of this book is an epochal event in the understanding of the decisive role that fantasy plays in our social and psyche's existence. Turner's work is a revolution on every page." - Todd McGowan, Professor, Department of English, University of Vermont, USA.

"Beyond its fine explication of the notion of fantasy over Jacques Lacan's entire oeuvre, this remarkable book situates the importance of fantasy not only in the fields of philosophy and psychoanalysis more generally, but also for the contemporary subject. Turner's expert guidance through the complex nuances of one of Lacan's most central concepts will be appreciated by scholars and clinicians alike." - Stephanie Swales, Clinical Psychologist and Psychoanalyst; Associate Professor, Psychology Department, University of Dallas, USA.
About the Author(s)
Kirk Turner received his PhD in philosophy from Deakin University, Australia. He has published widely on Lacan and Freud, produced several German-to-English translations, and lectured and presented in Australia and internationally.
You may also like