We Are Family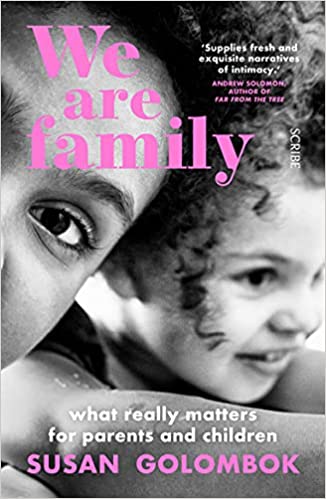 Also by Susan Golombok

An insight into new ways of becoming a parent by a world-leading expert.
Families come in all shapes and sizes: from the nuclear two-parent two-child unit to gay families, trans families, single parents, and babies conceived using donor eggs, sperm, or embryos, or carried by a surrogate.
An expert in family relationships, Professor Susan Golombok has seen it all. In We Are Family, she looks at how different parenting set-ups can thrive, and asks the crucial question: what really makes a family?
Reviews and Endorsements
'In this important and compelling book, Professor Susan Golombok gives evidence that the expansion of domestic structures represents not the downfall of family, but the expansion of it to include previously unfathomed, rich possibilities. She explains the new ways people find to reproduce and to be parents, examines how the changes evolved over the last forty years or so, and illuminates the workings of previously undocumented kinds of households. In doing so, she supplies fresh and exquisite narratives of intimacy; this is, at heart, a book about love.'

– Andrew Solomon, author of Far from the Tree

'This inspiring book by Professor Susan Golombok is a rebuff to people who reject diverse families with unfounded claims that they harm children. She tells the personal stories of children brought up by lesbian mothers, gay fathers, single parents, co-parents, and trans parents; showing that they are equally well-adjusted, happy and emotionally stable as children from traditional mum and dad families. Golombok refutes fear and prejudice with evidence and facts. Bravo!'

– Peter Tatchell

'Brilliant ... Professor Golombok takes you on a powerful journey in this moving account of her tireless work with LGBTQ+ and other families.'

– April Guasp, Head of Research, Stonewall

'This book explores what really fosters healthy relationships within families … a quick, pleasurable read.'

– Haley Zilberg, Farrago

'In this compelling book Susan Golombok draws on decades of research into lesbian mothers, IVF families, gay father families, single-mother families, and trans families to measure the impact on children of these non-traditional family forms.'

– Fiona Capp, The Age

'In We Are Family, Susan Golombok, a world leader in studying and understanding these new types of families, vividly draws on decades of experience to convey their lives and the dilemmas they face. This moving and timely book will surely benefit many people, wonderfully illustrating how these diverse types of parents are creating healthy and loving families.'

– Dr Robert Klitzman, professor of psychiatry at Columbia University, and author of Designing Babies

'Research driven and wide ranging in scope, this newest book by Golombok details nontraditional family structures and explores why transforming our collective understanding of families matters for us all. … Golombok reworks domestic narratives to show the family as a structure with plasticity enough to encompass relationships divested from rigid or fixed categories of gender and sexuality and that "children can flourish in all kinds of new family forms." … An essential, thought-provoking work that will serve as the foundation for future studies.' STARRED REVIEW

– Emily Bowles, Library Journal

Praise for Modern Families:

'Modern Families is a landmark publication, a succinct state-of-the-art review, and is highly relevant reading for researchers in developmental psychology or family studies and for students in these fields. Policymakers, and indeed parents or want-to-be parents of children brought up in de novo or planned lesbian or gay families, will also want to read this rich and inspiring book.'

– Fiona Tasker and Victor Figueroa, Journal of GLBT Family Studies

Praise for Modern Families:

'For years, a basic premise was that the more a family deviated from the traditional, two-parent, heterosexual family, the more the child's psychological well-being was in jeopardy. Golombok addresses a more elemental question by asking how the parenting children in new families experience actually differs from that found in traditional families. Highly recommended. Lower-division undergraduates through faculty and professionals, [and] general readers.'

– Choice

Praise for Modern Families:

'This book would be most beneficial to any professional working systemically or for any professional working with more contemporary family form to better understand how that family form works in order to parent well and to be aware of where potential conflicts may arise.'

– The Association for Child and Adolescent Mental Health
About the Author(s)
Susan Golombok is professor of family research and director of the Centre for Family Research at the University of Cambridge, and a professorial fellow at Newnham College, Cambridge. Her pioneering research on lesbian mother families, gay father families, single mothers by choice, and families created by assisted reproductive technologies has been instrumental to our understanding of both child development and social and ethical issues related to family life.
You may also like