Using the Expressive Arts with Children and Young People Who Have Experienced Loss: A Pocket Guide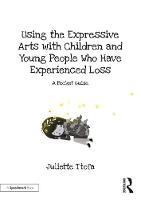 Also by Juliette Ttofa
This guidebook has been created to be used alongside the storybook, The Girl Who Lost the Light in Her Eyes. Using a relational approach, it explores the themes of the story and offers guidance to the adult as they use expressive arts to give the child or young person a creative outlet for their emotions. The gentle guidance offered makes this an ideal tool for non-specialists working with children experiencing loss or bereavement. It guides the adult to respond appropriately and sensitively to the grief of the child, whilst helping them journey through the grieving process.
This book must be used alongside the illustrated storybook, The Girl Who Lost the Light in Her Eyes. Both books are available to purchase as a set, Supporting Children and Young People Who Experience Loss.
Perfectly crafted to spark communication around a difficult topic, this is an invaluable tool for practitioners, educators, parents, and anybody else looking to support a child or young person through loss or bereavement.
About the Author(s)
Juliette Ttofa is a specialist educational psychologist with a long-standing interest in the complex issues surrounding trauma, attachment needs and emotional resilience. She specialises in supporting children & young people, their schools & families in understanding & responding to social, emotional & mental health needs through training, therapeutic support, and assessment and consultancy. She is a Registered Sandplay Therapist and is passionate about using the expressive arts to support the mental health and wellbeing of all children and young people.
You may also like