Unrepressed Unconscious, Implicit Memory, and Clinical Work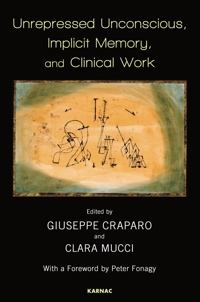 Book Details
Publisher : Routledge
Published : September 2016
Cover : Paperback
Pages : 208
Category :
Neuroscience
Category 2 :
Psychoanalysis
Catalogue No : 36633
ISBN 13 : 9781782202486
ISBN 10 : 178220248X
Also by Clara Mucci
Also by Giuseppe Craparo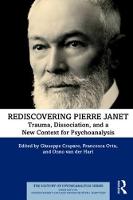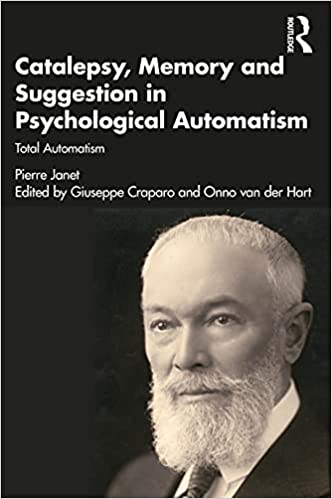 Unrepressed Unconscious, Implicit Memory, and Clinical Work analyses the psychological and neurobiological characteristics of what nowadays goes under the name of "unrepressed unconscious", as opposed to Freud's earlier version of a kind of "repressed unconscious" encountered and described initially in his work with hysterical patients.
Pioneering Italian psychoanalyst and neuroscientist Mauro Mancia has distinguished this seminal Freudian concept from an earlier version of the unconscious (preverbal and pre-symbolic) that he terms "unrepressed", and which he describes as "having its foundations in the sensory experiences the infant has with his mother (including hearing her voice, which recalls prosodic experiences in the womb). In connection with this description of two different kinds of unconscious, a 'double' system of memory has been identified: if a traumatic event or series of events takes place when the nervous system is not ready to encode them linguistically and register them within the declarative memory system, they leave a trace within the implicit memory and particularly within the right brain, which both Mancia and Schore see as the seat of implicit memory and of that kind of unconscious that is not available for recollection but has not been properly repressed either (therefore "unrepressed").
Reviews and Endorsements
'A book dedicated to the "unrepressed unconscious" is a long-awaited contribution to psychodynamic theory and practice. It makes us address questions to which we cannot, and probably we should not, give final answers. How does the clinician move between the unconscious of neuroscience and the unconscious of psychoanalysis? What is the role of implicit memory in normal and pathological functioning? How are our ideas of different kinds of unconscious affected by our understanding trauma, dissociation, attachment, and implicit relational knowledge? Giuseppe Craparo and Clara Mucci have edited a thought-provoking book wherein the major scholars of the field are called to share their different perspectives, keeping us suspended between the longing for answers and the desire for new questions.'
-Vittorio Lingiardi, psychiatrist and psychoanalyst, Sapienza University of Rome, Italy

'The notion of the unrepressed unconscious has been a major psychoanalytic puzzle since the inception of the discipline. Psychoanalytic thinking about the nature of consciousness has always implicitly distinguished between a non-conscious and a dynamically unconscious mental content, whether marked by distinctions such as repressed vs. unrepressed, preconscious vs. unconscious or, using Sandler's three-box model, past vs. present unconscious. This excellent book attempts to map this somewhat controversial field and addresses the dichotomy from six distinct perspectives that share the wish to integrate contemporary neuroscience with psychoanalytic perspectives, using the clinical setting as the primary constraint on theory-building.'
-Peter Fonagy, Freud Memorial Professor of Psychoanalysis, University College London; from the Foreword
About the Editor(s)
Giuseppe Craparo, PhD, is a psychoanalytically oriented psychotherapist practicing in Enna and Catania, Italy. He is Assistant Professor of Psychology at the Kore University of Enna. He is also a member of the ASP (Associazione di Studi Psicoanalitici), a Member Society of the International Federation of Psychoanalytic Societes.
More titles by Giuseppe Craparo
Clara Mucci is a psychoanalytically oriented psychotherapist practicing in Milan and Pescara, Italy. She is Full Professor of Clinical Psychology at the University of Chieti, where she taught English Literature and Shakespearean Drama. She received a PhD from Emory University, Atlanta, and was a fellow in 2005-2006 at the Institute of Personality Disorder, New York, directed by Otto Kernberg. The author of several monographies on Shakespeare, Psychoanalysis and Literary Theory, she has taught in London (Westminster College), Atlanta, and New York (Hunter College).
You may also like