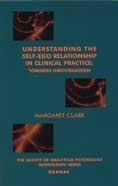 Book Details
Publisher : Routledge
Published : 2006
Cover : Paperback
Pages : 136
Category :
Jung and Analytical Psychology
Catalogue No : 21950
ISBN 13 : 9781855753884
ISBN 10 : 185575388X
Also by Margaret Clark
Understanding the Self-Ego Relationship in Clinical Practice: Towards Individuation is a volume in the clinical practice monograph series from The Society of Analytical Psychology. This series is intended primarily for trainees on psychotherapy and psychodynamic counselling courses, and for those who are newly qualified. These compact editions will be invaluable to all who wish to learn the basics of major theories derived from the work of Freud and Jung, from an integrated viewpoint. The authors are Jungian analysts trained at the SAP, highly experienced in both theory and practice.
Margaret Clark argues for the profound importance of trusting the unconscious psyche in therapeutic work with adults. She considers various analytical meanings of the term "the self", with reference to a wide range of theorists, and various ways of thinking about the development of the ego. She uses primarily a Jungian model of the psyche from a developmental perspective, based on the assumption that the ego evolves in infancy and childhood out of a primary psychosomatic self. The self remains always greater than the ego and has infinite resources on which the ego can draw. The ongoing process of including more of this self in consciousness is what Jung calls "individuation".
About the Author(s)
Margaret Clark trained as a psychodynamic counsellor and a psychoanalytic psychotherapist at WPF Therapy before she trained as a Jungian analyst at the Society of Analytical Psychology in London.
You may also like