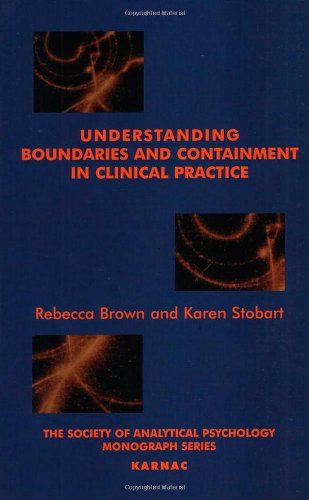 Book Details
Publisher : Routledge
Published : 2007
Cover : Paperback
Pages : 146
Category :
Jung and Analytical Psychology
Catalogue No : 25854
ISBN 13 : 9781855753938
ISBN 10 : 1855753936
The authors propose to investigate the meaning and purpose of boundaries within and around the therapeutic experience. A boundary is more than a simple line delineating one space from another; it is an entity with properties that demand a response if they are to be negotiated. Boundaries circumscribe a space that can be viewed objectively, or experienced subjectively, as a 'container'.
For the uninitiated, this therapeutic container can be difficult to penetrate. Even health professionals such as GPs and psychiatrists often do not know how to access psychotherapy organisations and their referral networks. Also, real constraints on the availability of counselling and psychotherapy within the National Health Service, and the cost of private sector services, may prohibit access to the help being sought. The book explores aspects such as the gradual evolution of therapeutic boundaries in psychodynamic work, boundary development in infancy and childhood, the role of the therapist's mind and the therapeutic setting, confidentiality and issues such as money and time.
Understanding Boundaries and Containment in Clinical Practice is a volume in the clinical practice monograph series from The Society of Analytical Psychology. This series is intended primarily for trainees on psychotherapy and psychodynamic counselling courses, and for those who are newly qualified. These compact editions will be invaluable to all who wish to learn the basics of major theories derived from the work of Freud and Jung, from an integrated viewpoint. The authors are Jungian analysts trained at the SAP, highly experienced in both theory and practice.
About the Author(s)
Rebecca Brown is a Training Analyst with the Society for Analytical Psychology and also supervises for the British Association of Psychotherapists and the London Centre for Psychotherapy. She is a former Chair of the Society and has been involved for many years in its analytical training programme. She is also involved in running a public programme for counsellors and psychotherapists in Oxford. Her background is in counselling, psychiatric social work, and psychotherapy.
Karen Storbart is a Professional Member of the Society of Analytical Psychology, working in private practice in London and in the National Health Service as a Consultant Psychotherapist (Adult).
You may also like