Understanding Mental Health and Mental Illness: An Exploration of the Past, Present, and Future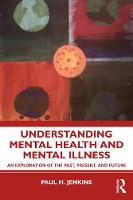 Book Details
Publisher : Routledge
Published : January 2021
Cover : Paperback
Pages : 338
Category :
Individual Psychotherapy
Catalogue No : 95481
ISBN 13 : 9781138340756
ISBN 10 : 9781138340
The question of whether someone is psychologically healthy or mentally ill, and the fundamental nature of mental health underlying that question has been debated in cultural, academic, and clinical settings for millennia. This book provides an overview of how people have conceptualized and understood mental illness through the ages.
The book begins by looking at mental illness in humanity's evolutionary past then moves through the major historical epochs: the mythological, the Classical, the Middle Ages, the Renaissance, the Enlightenment, and modern, and the postmodern. At each point, it focuses on major elements that emerged regarding how people judged sanity and insanity and places major emphasis on the growing fields of psychiatry and psychology as they emerged and developed. As the book moves into the twenty-first century, Dr. Jenkins presents his integrated model of knowledge, a systemic, holistic model of the psyche that creates a conceptual foundation for understanding both psychological wellness and disorder and approaching assessment and diagnosis.
This text provides a valuable exploration of mental health and illness across the ages and gives those already well versed in the subject matter a fresh perspective on the past and new model of knowledge and assessment for the future.
Reviews and Endorsements
"In this deeply probing work, Paul Jenkins investigates and analyses the constructs of mental health and mental illness. Drawing from multiple perspectives based in a rich and deep knowledge of the relevant scholarship from an array of relevant fields, Jenkins deconstructs and assesses the theories and underlying epistemologies that have been applied to mental health and mental illness. He takes the reader on an insightful historical voyage through the development of these concepts over time, concluding with an integrative synthesis grounded in a new variation on the biopsychosocial model. This is a book that should be read by every thoughtful student or practitioner in a mental health field." - Jay L. Lebow, PhD, ABPP, senior scholar and clinical professor, The Family Institute at Northwestern University.
About the Author(s)
Paul H. Jenkins, PsyD, is a licensed clinical psychologist with more than 30 years of professional experience in the assessment, diagnosis, and treatment of mental illness. He is a professor of psychology at National University and enjoys teaching students the fundamentals of assessment, treatment planning, and psychotherapy.
You may also like