Treatment of Borderline Personality Disorder: A Guide to Evidence-Based Practice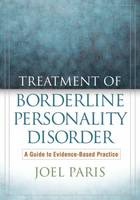 Book Details
Publisher : Guilford Press
Published : January 2010
Cover : Paperback
Pages : 260
Category :
Clinical Psychology
Catalogue No : 29847
ISBN 13 : 9781606238646
ISBN 10 : 1606238647
Also by Joel Paris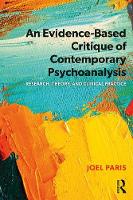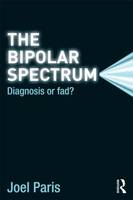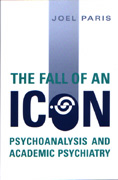 Organizing a vast body of scientific literature, this indispensable book presents the state of the art in understanding borderline personality disorder (BPD) and distills key treatment principles that therapists need to know.
Reviews and Endorsements
'Few people can claim the extraordinary level of experience in studying and treating borderline personality disorder that Paris brings to this book. Even fewer could write such a readable, clinically rich, and wise account of these patients, which seamlessly integrates exciting new empirically based findings. Anyone who has encountered a patient with BPD will covet this book, and, after having read it, will be far better prepared to manage future encounters.'
- John G. Gunderson, Center for the Treatment of Borderline Personality Disorder, McLean Hospital, Harvard Medical School, USA

'Paris has concisely presented and reviewed an enormous amount of clinical research in borderline personality disorder (BPD). He addresses issues head on and clearly separates the wheat from the chaff. This book is an excellent clinical introduction for the beginning mental health practitioner and provides an up-to-date review for experienced clinicians. It covers the current state of clinical research and evidence-supported psychotherapeutic interventions in BPD comprehensively yet succinctly, and would be a valuable classroom text.'
- Kenneth R. Silk, Professor and Director, Personality Disorders Program, Department of Psychiatry, University of Michigan Health System, USA

Contents:
Part I: Definitions. Making the Diagnosis. The Boundaries of BPD. Personality and Development. Part II: Causes. Risk Factors. A General Model. Part III: Treatment. Outcome. Pharmacotherapy. Psychotherapy. Guidelines for Management. Therapeutic Interventions. Problems in Therapy. Suicidality and Hospitalization. Research Directions.
About the Author(s)
Joel Paris was born in New York City, but has spent most of his life in Canada. Dr. Paris' research interest is in borderline personality disorder. Dr. Paris has 193 peer-reviewed articles, and is the author of 17 books and 40 book chapters. Dr. Paris is an educator who has has won awards for his teaching.
You may also like