Treating Adult Survivors of Childhood Emotional Abuse and Neglect: Component-Based Psychotherapy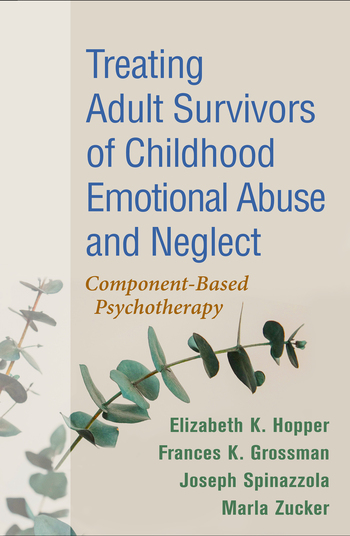 Also by Joseph Spinazzola
Also by Elizabeth K. Hopper
Grounded in 40 years of clinical practice and research, this book provides a systematic yet flexible evidence-informed framework for treating adult survivors of complex trauma, particularly those exposed to chronic emotional abuse or neglect. Component-based psychotherapy (CBP) addresses four primary treatment components that can be tailored to each client's unique needs--relationship, regulation, dissociative parts, and narrative.
Vivid extended case examples illustrate CBP intervention strategies and bring to life both the client's and therapist's internal experiences. The appendix features a reproducible multipage clinician self-assessment tool that can be downloaded and printed in a convenient 8 1/2" x 11" size.
Reviews and Endorsements
"This excellent book is pivotal in helping therapists reach out to their traumatized clients' profound sense of annihilation and facilitate healing from emotional abuse and neglect. The authors present a superb account of their treatment model, which masterfully integrates the key components of truly helpful psychotherapy. Reading the appealing, illuminating clinical examples is a great privilege. This volume is a 'must read' for novice and experienced therapists alike, as well as students." - Onno van der Hart, PhD, Department of Clinical and Health Psychology (Emeritus), Utrecht University, The Netherlands.

"CBP brings both wisdom and compassion to the challenge of working therapeutically when on the very edge of--and at times, thrown into--the abyss of dysregulation and dissociation that is complex trauma. The core principles and case studies reflect a deep understanding of the adult survivor's experience as well as the importance of therapist self-awareness and self-reflection. This book's exploration of the therapeutic process is a valuable counterbalance (and complement) to manualized approaches to complex trauma therapy." - Julian D. Ford, PhD, ABPP, Department of Psychiatry, University of Connecticut Health Center.

"The authors have written a tightly reasoned and empathic book on the psychodynamic treatment of complex trauma. It is especially focused on the therapeutic relationship, the clinician's and client's internal experience, the role of dissociative 'parts,' and mind–body theories. Although this book diverges to some extent from my own perspective, it offers a balancing force in the face of more manualized, shorter-term models. I salute it for its intelligence and clinical wisdom, and recommend it as a thought-provoking and valuable addition to our current approaches." - John Briere, PhD, Department of Psychiatry and Behavioral Sciences, University of Southern California.

"This book offers a very fine overview of the process of individual therapy with survivors of trauma--although, truth be told, many of its insights apply to therapy with virtually all clients. It will be especially useful for early-career therapists who may not yet fully realize the complexity and importance of their relationship with the client. A major strength of this book is its ongoing exploration of the impact of various aspects of trauma (such as dysregulation) on the therapist and the therapist's responses." - Pamela C. Alexander, PhD, private practice, South Natick, Massachusetts.
About the Author(s)
Elizabeth K. Hopper, PhD, is a clinical psychologist with a specialization in traumatic stress. Dr. Hopper is an administrator, supervisor, clinician, and trainer at Justice Resource Institute in Boston, Massachusetts. She is currently Project Director of the Metropolitan Boston Complex Trauma Treatment Initiative, a mobile service network delivering evidence-based trauma interventions to high-risk and underserved complex trauma–exposed children and youth. Dr. Hopper serves as director of a regional anti-trafficking coalition, co-chairs the Mental Health Council of HEAL Trafficking, and has a private practice. She has collaborated with numerous agencies and organizations in developing trauma-informed care systems. Dr. Hopper is coauthor of a book on yoga as a body-based intervention for trauma and has written numerous articles and chapters on complex trauma, trauma-informed care, homelessness, and human trafficking. She has a strong interest in integration across treatment models and in interventions that can be individually adapted.
More titles by Elizabeth K. Hopper
Frances K. Grossman, PhD, ABPP, is a senior supervisor and member of the training faculty at the Trauma Center at Justice Resource Institute in Brookline, Massachusetts, with which she has been affiliated since 2001. She is Professor Emeritus in the Clinical Psychology program at Boston University, having taught there for over 30 years, and was an adjunct faculty member in the Lesley University Master's in Counseling Psychology program for a decade. Dr. Grossman has published and presented on topics including resiliency in women and men with histories of childhood sexual abuse. With a particular interest in dissociation, she teaches a dissociation seminar at the Trauma Center and has developed an imagery technique for engagement with dissociated parts of self. She is highly engaged in the national dialogue about implicit and explicit racism and has participated in the development of a Trauma Center working group on issues related to diversity.
More titles by Frances K. Grossman
Joseph Spinazzola, PhD, a clinical psychologist in private practice, was a clinician, researcher, clinical supervisor, and national trainer for the Trauma Center in Brookline, Massachusetts, for over 18 years, including 12 years as Executive Director. He is Adjunct Professor at Richmont Graduate University, a member of The Forensic Panel consulting practice, and Executive Director of the Foundation Trust. Dr. Spinazzola founded the Complex Trauma Treatment Network of the National Child Traumatic Stress Network, coauthored the International Society for Traumatic Stress Studies's expert guidelines for the treatment of complex posttraumatic stress disorder, served as Co-Principal Investigator of the developmental trauma disorder national field trials, and has published over 60 peer-reviewed journal articles and book chapters. He is also the lead developer of the Trauma Drama intervention for youth and young adults.
More titles by Joseph Spinazzola
Marla Zucker, PhD, CMPC, is a clinical psychologist and certified sport psychologist in private practice in Brookline, Massachusetts. She is a supervisor and lecturer in the Sport Psychology specialization at Boston University within the Counseling Psychology program. Dr. Zucker worked with the Trauma Center at Justice Resource Institute (JRI) for 15 years, including 11 years as Director of Clinical Services and then Program Director, and 8 years as Program Director at JRI's Metrowest Behavioral Health Center in Acton, Massachusetts. At the Trauma Center, she was also on the training faculty and worked clinically with traumatized children, adolescents, and adults. Dr. Zucker has published and presented widely in the areas of trauma and trauma treatment and developmental learning and attention disorders.
You may also like