When Death Enters the Therapeutic Space: Existential Perspectives in Psychotherapy and Counselling

Book Details
Publisher : Routledge
Published : January 2009
Cover : Paperback
Pages : 254
Category :
Existential therapy
Catalogue No : 27857
ISBN 13 : 9780415416559
ISBN 10 : 0415416558
Also by Laura Barnett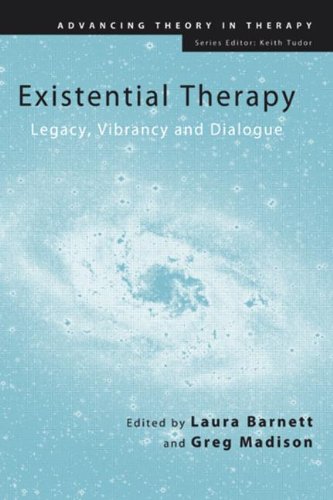 Although it is a natural and inescapable part of life, death is a subject that is often neglected in psychotherapeutic literature and training. In "When Death Enters the Therapeutic Space", Laura Barnett and her contributors offer us insights into working with mortality in the therapeutic encounter. Taking an existential perspective, the book brings together a variety of client groups, all of whom have experienced a confrontation with mortality, and encourages the reader to engage with and reflect upon the subject of death.
Reviews and Endorsements
Although this may initially evoke anxiety and distress, Barnett and her contributors introduce the reader to the 'vitality of death' (Koestenbaum); an energy and focus that can come from confronting our greatest fears and anxieties, including the anxiety aroused by our own mortality. Topics covered include: philosophical roots and principal approaches to existential therapy; health related issues including cancer, HIV and Intensive Care; surviving violent trauma; creating a safe space for the client; short prognosis and palliative care; and, bereavement. "When Death Enters the Therapeutic Space" presents therapists with an understanding of what it means to experience such traumas and prepares them for helping the client. It will be useful for trainee counsellors and experienced therapists alike.

Contents: van Deurzen, Foreword. Barnett, Introduction. Barnett, The Philosophical Roots of Existential Therapies. Lockett, Reflections on Cancer Counselling. Horne, HIV as a Mirror to Life. Barnett, Surviving Intensive Care. Oakley, Creating Safety for the Client: The London 7/7 Bombings. Blackwell, Mortality and Meaning in Refugee Survivors of Torture and Organized Violence. Heaton, Reflections on Suicide and Despair. Smith-Pickard, The Experience of Working with Patients with a Short Prognosis. Diffley, Fife, Lockett, Palliative Care, Pastoral Care and Counselling: Working Together, Learning From One Another. Young, Working With Bereavement: in the midst of life we are in death. Chalmers, Working with Bereaved Parents. Sorensen, And When the Therapist or Supervisor Dies!. Barnett, Dialogues: Buber, Rogers, Levinas and the Therapeutic Relationship. Barnett, Conclusion: The Therapeutic Relationship, When Death Enters the Therapeutic Space.
You may also like