Transcribing Lacan's Seminars - Memoirs of a Disgruntled Keybasher Turned Psychoanalyst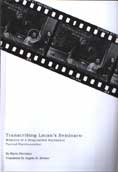 Book Details
Publisher : Free Association Books
Published : January 2006
Category :
Lacanian Psychoanalysis
Catalogue No : 22785
ISBN 13 : 9781853439636
ISBN 10 : 1853439630
The author began her working career as a freelance conference steno-typist, and it was in this capacity that she was Jacques Lacan's steno-typist ("keybasher") from 1967 to 1979. It was only after she became a psychoanalyst herself that Pierrakos felt adequately equipped to explore and write about this experience in depth. Her careful but excoriating criticism of the Lacanian system will be of interest to all readers wishing to understand more about one of the most curious phenomena of our time - how a large part of the French intelligentsia came to be captivated by what turned out to be both a body of theory, an idealogy and a way of treating patients, whose effects, though questionable from many aspects, are still felt today in many fields.
Reviews and Endorsements
Pierrakos considers Lacan's technique of stringing together preposterous paradoxes, abstruse formulae and aggressive wordplay to be a way of protecting himself from affects and forgetting the true purpose of psychoanalysis by "locking human relations into unaccustomed networks breaking up everyday relations". The author records: "The posturing was backed up by a quasi-military organization, interlinking regions by sending analysts into virgin territory to preach the good word. Some had undergone only summary analysis and training, since, to quote Lacan "the analyst is only answerable to himself". Hardback, 66 pages.
You may also like