Therapeutic Group Analysis

Book Details
Publisher : Routledge
Published : 1984
Cover : Paperback
Pages : 320
Category :
Group Psychotherapy
Catalogue No : 2704
ISBN 13 : 9780946439096
ISBN 10 : 0946439095
Also by S.H. Foulkes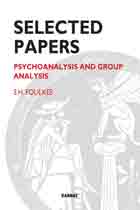 'This book is based on twenty-five years of intensive study of patients in psychotherapeutic groups. The attitude is psychoanalytic but the method and technique are new. The background of consideration is the mental matrix of the group as a whole inside which all intrapsychic processes interact. This has a profound significance for psychoanalytical concepts and the many problems connected with them in psychoanalytic practice and theory.
'As in the individual field, in psychoanalysis, so in this multipersonal, supraindividual, field, the study of the pathological proved most fruitful, opening the doors to dynamic unconscious forces which are otherwise closed and barred. It is not accidental therefore that observation and discovery in the therapeutic group are of special significance. Group-Analysis as here conceived, should prove a contribution to a truly social, traspersonal psychopathology and transcultural anthropology'.
- S.H. Foulkes, from the Preface
About the Author(s)
S.H. Foulkes (1898-1976) was born in Karlsruhe, and received his psychoanalytic training in the late 1920's in Vienna under Helene Deutsch. After some years in private practice he left Germany in 1933 and, after a brief stay in Geneva, settled in London at the invitation of Ernest Jones. During the 1940s he began to formulate the principles and methods of Group Analysis and Group-Analytical Psychotherapy. In 1952, with others, he founded the Group Analytic Society, and was still actively involved with teaching, lecturing and participation in group seminars until the time of his death.
You may also like