The Vale of Soulmaking: The Post-Kleinian Model of the Mind
Book Details
Publisher : Routledge
Published : 2005
Cover : Paperback
Pages : 272
Category :
Psychoanalysis
Catalogue No : 18426
ISBN 13 : 9781855753105
ISBN 10 : 1855753103
Also by Meg Harris Williams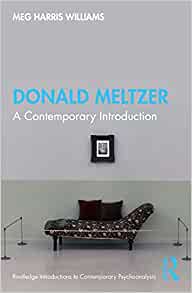 The post-Kleinian model of the mind, as developed by W. R. Bion and Donald Meltzer, is essentially an aesthetic one. It is founded on Melanie Klein's discovery of the "internal object" with its combined masculine and feminine qualities and ambiguous, awe-inspiring nature. Turbulent emotional experiences are repeatedly transformed through symbol-formation, on the basis of the internal relationship between the infant self and its object; and the aesthetic containment provided by this "counter-transference dream" (as Meltzer put it) enables the mind to digest its conflicts and develop.
This search for a pattern that can make "contrary" emotions thinkable is modelled by all art forms and accounts for their universal significance. It is a process that can be observed particularly clearly in literature, in the form of the romance between the poet and his Muse (the traditional formulation of the psycho-analytic internal object).
This book explores the "counter-transference dreams" of some of the inspired symbol-makers who have been most influential in forming the modern aesthetic perspective in psychoanalytic thinking, including Shakespeare, Milton, Keats, Homer and Sophocles. It concludes with a discussion of Bion's autobiographical works, which are the final expression of his own conception of the aesthetic model.
Reviews and Endorsements
'Homer and Milton were not writing "poetry"; they were writing "seriously". They wrote poetry because it was the most serious way of writing.'
- W. R. Bion

'The Value of Soulmaking promises to become the text for post-Kleinian thought…and the upshot of it all is to establish Mrs Klein as the first "post-Kleinian".'
- Donald Meltzer
About the Author(s)
Meg Harris Williams, a writer and artist, studied English at the Universities of Cambridge and Oxford and art at the Accademia di Belle Arti in Florence, and has had a lifelong psychoanalytic education, working closely with Donald Meltzer. She has written and lectured extensively in the UK and abroad on psychoanalysis and literature. She is a visiting lecturer for AGIP and at the Tavistock Centre in London, and an Honorary Member of the Psychoanalytic Center of California. She is married with four children and lives in Farnham, Surrey.
You may also like