The Use of the Object in Psychoanalysis: An Object Relations Perspective on the Other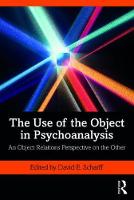 Book Details
Publisher : Routledge
Published : July 2019
Cover : Paperback
Pages : 140
Category :
Psychoanalysis
Catalogue No : 94576
ISBN 13 : 9780367189167
ISBN 10 : 9780367189
Also by David E. Scharff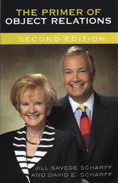 Using Winnicott's classic paper as its starting point, this fascinating collection explores a range of clinical and theoretical psychoanalytic perspectives around relating to `the object'.
Each author approaches the topic from a different angle, switching between the patient's use of others in their internal and external lives, their use of their therapist, and the therapist's own use of their patients. The use of objects is susceptible to wide interpretation and elaboration; it is both a normal phenomenon and a marker for certain personal difficulties, or even psychopathologies, seen in clinical practice.
While it is normal for people to relate to others through the lens of their internal objects in ways that give added meaning to aspects of their lives, it becomes problematic when people live as if devoid of a self, and instead live almost exclusively through the others who form their internal worlds, often leading them to feel that they cannot be happy until and unless others change.
Assessing the significance of objects among adult and child patients, groups and the group-as-object, and exploring Freud's own use of objects, The Use of the Object in Psychoanalysis will be of significant interest both to experienced psychoanalysts and psychotherapists, and to trainees exploring important theoretical questions.
About the Author(s)
David E. Scharff, MD, is Chair of the International Psychoanalytical Association's Committee on Family and Couple Psychoanalysis; Chair of the Board, Founder and former Director of the International Psychotherapy Institute, Washington, DC; and Clinical Professor of Psychiatry at Georgetown University and the Uniformed Services University of the Health Sciences. He is the founding Editor-in-Chief of the journal Psychoanalysis and Psychotherapy in China, and author and editor of numerous books and articles, including The Sexual Relationship, Object Relations Family Therapy (with Jill Savege Scharff), Object Relations Couple Therapy, The Interpersonal Unconscious, and Psychoanalytic Couple Therapy.
You may also like